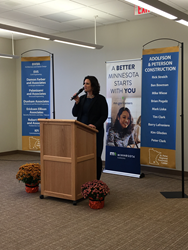 "Beginning to end, their [AP] guidance has been outstanding and their work has been nothing short of remarkable," said Olson
St. Peter, MN (PRWEB) October 17, 2016
On Wednesday, October 12, Minnesota Security Hospital (MSH) located in St. Peter, Minnesota hosted an open house for the public to visit the campus and see firsthand the much needed upgrades and expansions to the facility. Project elements include therapeutic and safety enhancements for patients and staff. The open house not only provided the public an opportunity to learn about the vital work that takes place within the facility, but also celebrated MSH's 150th Anniversary.
The open house, scheduled from 10AM-7PM, included a formal program at 1:30PM with remarks from Hospital Director, Carol Olson and Department of Human Services Commissioner, Emily Piper. Both speakers emphasized how proud they are of the tremendous improvements and accomplishments MSH has achieved over the last 150 years. Safety was another subject thoroughly addressed. "Our top priority has been a laser focus on security functionality," Piper stated. The new space's modern design provides just that – it will be easier to monitor patients due to the open floor plan, while smaller units will make it harder for patients to hurt themselves.
MSH is a secure psychiatric hospital that serves patients who have been committed by the court as mentally ill and dangerous. Originated in 1866, the city of St. Peter purchased a 210-acre farm and donated it to the state as an area to build the first MSH. Today, the current site consists of 520-acres, 42 buildings and 1.1 million square feet. MSH grounds and treatment facilities are typically closed to all but patients, their families, staff and volunteers.
Adolfson & Peterson Construction (AP), the general contractor on this $56.3-million expansion hospital, will be finalizing the project's construction by the end of November. "Beginning to end, their [AP] guidance has been outstanding and their work has been nothing short of remarkable," said Olson. This project marks AP's third project on the St. Peter hospital campus, as AP has delivered two other renovation projects on the campus for the Minnesota Sex Offender Program (MSOP). "Our team has worked hard to create an outstanding safety culture here. We're really fortunate to have such a great group of contractors who understand that the most important thing is to be able to go home after a day of work," said AP project superintendent, Rick Streich.
MSH staff is eager to move into the modern expansion – occupancy is slated to begin early January 2017.
About AP
Adolfson & Peterson Construction is a U.S.-based, privately held firm that is consistently ranked among the top 50 construction managers and general contractors in the nation. Founded in 1946, the company has built longstanding commitments to the regions in which it operates and is known nationally for its innovative and collaborative approaches within the building industry. Adolfson & Peterson Construction serves the education, healthcare, commercial, municipal, senior living, and secure facility market segments from its offices in Dallas, Denver, Minneapolis, Phoenix and Charlotte. For more information, visit http://www.a-p.com and follow us on Facebook, LinkedIn and Twitter.