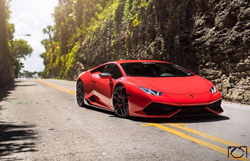 The SEMA show is known as the premier automotive specialty products convention in the world.
(PRWEB) October 18, 2016
Lite Speed Racing, a 10-year-old company focused on the development of carbon fiber engine covers for Volkswagen and Audi, announced it will be attending the 2016 SEMA Show in Las Vegas, Nevada from November 1 to 4.
The SEMA show is known as the premier automotive specialty products convention in the world, featuring a wide variety of the biggest names in the automotive industry. Lite Speed Racing will have a display featuring a 2015 Lamborghini Huracan owned by Brian Gould and built by Stance Automotive, a family owned and operated company that has been actively involved in the South Florida automotive community since 1984. The vehicle, which features Lite Speed Racing rims and custom fiber work by RSC Tuning, will be on display for the entirety of the trade show. Stance Automotive representatives will be on hand as well at the Lite Speed Racing booth.
"We are extremely excited to have one of our own vehicles displayed at the biggest trade show in the automotive industry," said Michael Franco, owner of Stance Automotive. "This is a tremendous opportunity for us to showcase our company's capabilities, and we are thrilled to be there side by side with Lite Speed Racing throughout the whole event. We can't wait to get to Las Vegas!"
This year's SEMA show takes place at the Las Vegas Convention Center. The event draws in
some of the brightest minds and hottest products in the industry to one place at the same time. The show provides attendees with a number of different educational seminars, product demonstrations, networking opportunities, special events and more.
In last year's show alone, the event drew more than 60,000 buyers from domestic and international locations. This year's show is divided into 12 sections, and features a New Products Showcase with more than 2,500 new parts, components and tools.
"I'm looking forward to not just showing off what we're capable of here at Stance Automotive, but from learning a lot from many other amazing minds from the auto industry," said Franco. "This promises to be special week for us."
Stance Automotive, a subsidiary of respected company Sam's Automotive, was founded in 1984 and offers professional auto repairs and customization for everyday drivers and car enthusiasts alike. The company boasts extensive automotive knowledge, years of experience with custom cars, 10 service bays and ASE certified technicians. For more information, visit http://www.stanceyourauto.com.
Lite Speed Racing was founded in 2006, and continues to focus on advanced material engineering to create lightweight performance products for street and race applications. The company's carbon fiber and titanium products have been used by professional drift teams, including Michael Essa's formula drift championship BMW. For more information, visit http://www.litespeedracing.com.