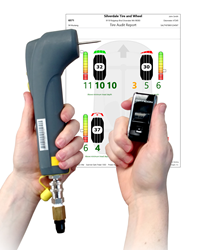 We are very excited to work with Opti-Tread and help our customers get even more out of their investment
Silverdale, WA. October 19, 2016 (PRWEB) October 21, 2016
Total Auto Business Solutions, Inc. (TABS) and Squarerigger, Inc. announce the integration of Squarerigger's Opti-Tread Tire Audit System with the TABS AutoFluent Shop Management Software.
Opti-Tread® is a portable, standalone system that is credited by its users with significant boosts in tire and alignment sales at retail tire dealers, auto dealerships and repair shops. Opti-Tread® provides shops the ability to quickly inspect tires with portable, wireless hardware regardless of whether the vehicle is in the bay, on a lift or in the lot. The inspection data then automatically produces the Tire Audit Report. The one-page color graphical report displays tire condition (PSI, tread depth, alignment issue etc.) in an easy to read, easy to understand format. This builds trust with the shop and gives consumers the confidence to make decisions about service and purchase immediately.
The integration of the Opti-Tread® Tire Audit System and AutoFluent® Shop Management Software is a milestone for auto service and tire businesses. These two products together provide a total package and rich features that will improve customer satisfaction and workplace efficiency. Glen Graham, president at TABS, said, "We choose our partners carefully to complement our existing software package, giving our customers additional features and benefits. We are very excited to work with Opti-Tread and help our customers get even more out of their investment."
Total Auto Business Solutions, Inc. (TABS) created AutoFluent® Tire Shop Management Software to help tire dealers run their businesses. For over 15 years TABS has worked closely with tire dealers to increase their accuracy and efficiency by adding tools like custom digital vehicle inspections, tire pictures & specs, MyCARFAX to decode VINs & plates, DOT registration, a tire fitment guide, fleet management, accounting integration, tire & part ordering, and now Opti-Tread.
Squarerigger, Inc. has been providing solutions for the automobile market, commercial trucking companies, utility companies, schools and universities since 1986. In addition to the Opti-Tread line of automobile tire audit systems, Squarerigger's products include Revolution® Commercial Tire Audit System and its flagship product SQ.7 Fleet Maintenance System.