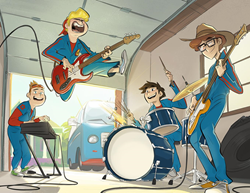 Everybody has the power to become a superhero.
New Orleans, LA (PRWEB) October 21, 2016
The Imagination Movers are super excited to announce the Oct. 21 release of their new song "Super Movers" on iTunes, Amazon, Google Play and other online retailers.
The Movers (Emmy­-winning stars of their own Disney Channel TV series) have partnered with 9 Story Media Group to develop a new animated show based on the idea that everybody has the power to become a superhero. "Super Movers" the series will feature catchy pop music and comedy while helping young people identify their unique talents. As always, the Movers will emphasize the importance of creativity and teamwork.
9 Story is currently pitching the series to several broadcasters. The Movers -- Rich Collins, Scott Durbin, Dave Poche and Scott "Smitty" Smith -- are releasing the "Super Movers" theme song to give fans a chance to be the first to own the music while showing TV execs how much demand there is for their content.
The Movers will also release the official "Super Movers" trailer on Nov. 4. The video introduces the guys in their superhero forms and reveals fun details about their new animated world. (Spoiler alert: It's possible that one of the Movers turns into a giant gummy bear.) The trailer was directed by Jason Boose, whose credits include Pixar's "Up," "Ratatouille" and "Cars" along with the new Netflix original film "The Little Prince."
­- In other Movers news, the original Disney series is now available via many regional cable providers' "On Demand" service. Look for it in your area.
­- And the Movers will perform a live concert this weekend (Oct. 21­-23) on SiriusXM Radio. Tune in to Kids Place Live on Ch. 78. Hear versions of "Super Movers," "Dump Truck," "Let's Have Fun" and more.
Air times:
Friday, 10/21 – 10 a.m. eastern
Saturday, 10/22 – 9 a.m. eastern and 5 p.m. eastern
Sunday, 10/23 – noon eastern
For more information, visit facebook.com/imaginationmovers or imaginationmovers.com.
For "Super Movers" images and song, click download link:
https://www.dropbox.com/sh/te4u94m8v2rzqxd/AAC4zCpAqiwj5SwAMfHaceEua?dl=0
Contact Jessi Sanborn at (504) 453­0003