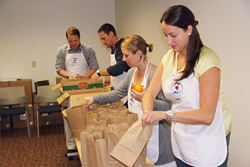 We are healthcare educators ourselves, so we know how important it is for students to avoid going hungry and to have nutritious options.
Tampa, Florida (PRWEB) October 21, 2016
Ultimate Medical Academy (UMA) is helping battle student hunger in the Tampa Bay area through a program called "Pack-A-Snack". During the last three years, nearly 150 UMA volunteers have packed more than 20,000 snacks for local school children to take home each weekend.
The students who received the snacks don't always have access to snacks at home, so the nutritious snacks distributed as part of the Pack-A-Snack program help the students avoid hunger during the weekend. Established in 2008, Pack-A-Snack is a community outreach program between Pinellas County Schools, local businesses, nonprofit organizations and churches.
This year, UMA expanded the program into Hillsborough County, independently partnering with Sergeant Smith Middle School, as well as Melrose and Fairmont Park elementary schools.
UMA volunteers are providing fresh fruit and vegetables in all the snacks they pack. This requires additional coordination with local vendors to make sure the produce is fresh and delivered on time for the students.
"The volunteers from Ultimate Medical Academy have been just wonderful," said Jean Audino, the volunteer coordinator for the Impact Pinellas Pack-A-Snack initiative. "Most of the food we have in the Pack-A-Snacks is processed, so having fresh fruit is very important for the children because they usually don't get that kind of nutrition."
Each Pack-A-Snack from UMA typically includes a banana, apple and orange, as well as a bag of carrots. UMA volunteers enjoy making the additional effort to provide the produce and also volunteer to deliver it to the schools each week.
"Our end goal is just to make sure we can do as much as we can for the young students in our community," said Matt Holland, the senior facilities manager and Pack-A-Snack coordinator at UMA. "We are healthcare educators ourselves, so we know how important it is for students to avoid going hungry and to have nutritious options. Our educational model has always sought to address the external factors and individual challenges that students face in their pursuit of education so that everyone has an equal opportunity to reach their potential."
UMA's participation in the Pack-A-Snack program is one of the many service projects and outreach in which UMA participates each year.
ABOUT ULTIMATE MEDICAL ACADEMY
Ultimate Medical Academy is a nonprofit healthcare educational institution with a national presence. Headquartered in Tampa, Florida and founded in 1994, UMA offers content-rich, interactive online courses as well as hands-on training at our campuses. UMA students have access to academic advising, one-on-one or group tutoring, résumé and interview coaching, job search assistance, technical support and more. The institution is accredited by the Accrediting Bureau of Health Education Schools (ABHES). Learn more about our school by visiting our website.