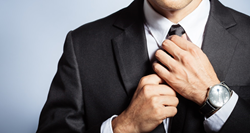 Students who are determined to launch a career in this rewarding profession should do their homework and develop a good understanding of what will be required of them when they secure their first position
London, England (PRWEB UK) 24 October 2016
London School of Marketing has released its latest blog post, asking, 'What does it take to become a successful corporate lawyer?' The average salary for corporate lawyers is £57,622, making it a fiercely competitive industry. Readers are advised to consider postgraduate studies, such as an LLM in International Commercial Law, to develop the specialist skills needed to secure a position at a top law firm.
"From supporting mergers to handling employment law, the responsibilities of a corporate lawyer are numerous," said LSM student supervisor Chrishanthi Ranwaweera.
"Students who are determined to launch a career in this rewarding profession should do their homework and develop a good understanding of what will be required of them when they secure their first position."
The blog post stresses the importance of keeping up with the latest developments in the legal world, and explains how studying commercial law teaches students all the up-to-date skills and knowledge they will need when starting out in the industry.
Readers who are determined to launch a career in corporate law are advised to boost their employability by gaining relevant experience, networking and volunteering. Practising interviews is also recommended to set yourself apart from rivals.
The full blog post, including a more detailed look at how to become a successful corporate lawyer, can be viewed here. The internationally recognised qualifications offered by the school, including its LLM in International Commercial Law, can be viewed at http://www.londonschoolofmarketing.com.
London School of Marketing delivers accredited marketing and business qualifications, and offers professional courses from recognised professional bodies such as CIM, EduQual and academic qualifications on Marketing, Business, Finance, Law and HRM from Anglia Ruskin University and The University of Northampton. Based in Central London, they are a QAA approved institution. The school also has offices in Sri Lanka, a network of Local Access Points (LAPs), and online programmes of learning.