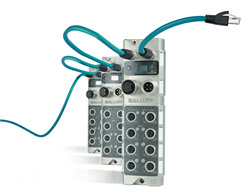 Florence, KY (PRWEB) October 24, 2016
Ethernet has become a popular network for connecting field devices to centralized control solutions. Ethernet allows designers to seamlessly integrate a broad range of compatible connectivity products. Whether implementing EtherNet/IP or EtherCAT in assembly automation, packaging, plastics, research, energy or any other industry, there is a need for tracking and communicating data.
Balluff offers a variety of industrial connectivity solutions for EtherNet/IP and EtherCAT applications with a complete teal cordset portfolio. Now, with the addition of red and blue cable jackets, customers can visually divide their plant operations for even easier tracking of communication data.
Balluff TPE Shielded Cable Features:

Teal, red, and blue cable jackets
ODVA complaint, Cat5e rated
Chemical, Oil, and UV resistant
600V, 2-twisted pair, 24 AWG
10 million flex (Dx20)
M12 and RJ45 combinations
In addition to cables, Balluff has a comprehensive line of EtherNet/IP and EtherCAT products that include multiple versions of machine-mount I/O blocks, unmanaged switches, network cables and accessories.
Learn more about Balluff's full line of networking cables.