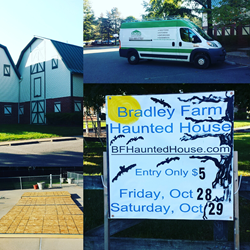 "We are thrilled to be able to participate, once again, with the Bradley Farm Haunted House. MOSS is a strong proponent of giving back to the Northern Virginia community." –Jenn Zschunke
Herndon, VA (PRWEB) October 21, 2016
This is the 10th year of the Bradley Farm Haunted House in Herndon, VA. MOSS is thrilled to be able to participate, once again, with this popular event in the local community. MOSS is a strong proponent of giving back to the Northern Virginia community. This Haunted House is special because it donates all of its proceeds to Herndon-Reston FISH a volunteer, nonsectarian, non-profit organization providing Friendly Instant Sympathetic Help to local residents in short-term crises.
For the last five years MOSS has assisted with the Bradley Farm Haunted House by building the walkways, walls, and roof that make up the exit of the haunted house. By doing so, MOSS helps in creating the phenomenal and spooky experience.
This year the Haunted House will be on Friday, October 28th, from 6-10pm, Saturday October 29th, from 1-5pm (for kids) and 6-10pm. MOSS The Builder will make a return appearance at the family event on Saturday with a popular treat for the children who attend!
About Moss Building & Design and Moss Home Services:
Moss Building & Design and Moss Home Services is an award-winning residential remodeling and home services company located in Chantilly, Virginia. As a trusted home improvement company in Northern Virginia, MOSS focuses on providing customer service that is unparalleled by any other contractors in the area. MOSS builds lifelong relationships with their customers that are centered around this trust.
Since 2001, MOSS has established a reputation for excellence in remodeling additions, kitchens, bathrooms, basements and home services throughout Northern Virginia. Their customers see them as a trusted partner, and MOSS is very proud that over 85% of their customers consider themselves 'customers for life.' Moss Building & Design has won consumer awards from Angie's List for six consecutive years and also has an A+ rating from the Better Business Bureau as well as many industry building and design awards.