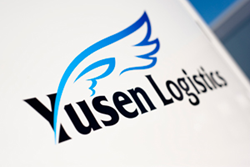 "Yusen Logistics is delighted to further extend its range of services for Konica Minolta. This new contract is an excellent example of the scope of our logistics activities," said Piet Boogaard, Managing Director at Yusen Logistics Benelux.
Ridderkerk, Netherlands (PRWEB) October 26, 2016
Yusen Logistics (Benelux) B.V. has announced that it will deliver an extensive set of logistics services for Konica Minolta Medical and Graphic Imaging Europe B.V. (KM Healthcare), with Yusen Logistics undertaking a European distribution role for KM Healthcare.
KM Healthcare develops, manufactures and markets high quality digital X-ray systems and other medical diagnostic equipment for, among others, hospitals and clinics.
Yusen Logistics will handle the storage and international distribution of complete systems, spare parts and consumables like medical films. The goods will be stored in both bonded as well as non-bonded conditions. The storage and logistics services for KM Healthcare will take place at Yusen Logistics' Antwerp Distribution Center in Melsele, Belgium. Temperature sensitive products from the KM Healthcare gamma will be stored in the climate controlled area of the Yusen Logistics warehouse.
Besides storage and warehousing, Yusen Logistics manages the in- and outbound goods flows for KM Healthcare. In terms of inbound, this mainly concerns the import from Japan through air and sea freight, as well as the deliveries from local suppliers. The outbound goods flows include air- and sea freight shipments to destinations in Europe, the Middle East and Africa, as well as consolidated and groupage deliveries to customers in Europe. In addition, Yusen Logistics will provide value added services to KM Healthcare, including kitting and labelling.
"It is important to Konica Minolta to have a logistics partner that offers a wide range of services. In particular, for the export it is important that all planning, documentation and handling of goods will be accurately taken care of. Yusen Logistics possesses these abilities and we are therefore looking forward to a good co-operation," said Judith Schut, Supply Chain Manager KM Healthcare EMEA.
Piet Boogaard, Managing Director at Yusen Logistics Benelux added: "Yusen Logistics is delighted to further extend its range of services for Konica Minolta. This partnership is an excellent example of the scope of logistics activities, including value added services, that we can offer to this key customer in the specialized Healthcare segment."
The co-operation with Yusen Logistics fits within the global "One Konica Minolta" strategy of Konica Minolta. The purpose of this strategy is to create optimal synergy between the three Konica Minolta divisions "Business Solutions", "Sensing" and "Healthcare".
About Konica Minolta Healthcare
Konica Minolta Healthcare is a global player in the field of diagnostic equipment for medical imaging such as Computed Radiography (CR), Digital X-ray systems (DR) and Ultrasound. Working from the head office for Europe, Mid East and Africa based in Amsterdam, Konica Minolta Healthcare offers her products and services to hospitals and other health institutions, as well as to local suppliers.
About Yusen Logistics
Yusen Logistics is a global operating logistics service provider offering warehousing, distribution, air/ocean freight forwarding and supply chain management. The global head office of Yusen Logistics is based in Tokyo, Japan.
Within Europe, Yusen Logistics has 77 operational sites, over 670.000m² warehouse space and more than 4300 employees. The Yusen Logistic Benelux organization contains 12 subsidiaries in The Netherlands, Belgium, Luxembourg as well as in France and Sweden.
For more information please contact:
Konica Minolta Healthcare EMEA
Contact person: Mrs. Caroline Arts – Marketing Communications
Email: Info-nl(at)mg.konicaminolta(dot)eu
Yusen Logistics Benelux
Contact person: Sander de Vries - Deputy General Manager Contract Logistics
Email: sander.de.vries(at)bnl.yusen-logistics(dot)com
Phone : +32 (0) 35 706 926