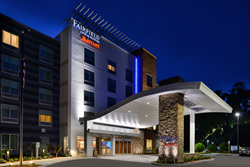 Naples, FL (PRWEB) October 25, 2016
The Naples Hotel Group, a leading hotel Development and Management Company, announced that it has acquired the development and management contract for the new Fairfield Inn & Suites located in Miami, FL. As part of the contract, the company will oversee the construction of the hotel and manage all aspects of the opening and operations with owners AVE Building A, LLC.
The Florida hotel will be located on the North side of Interstate 924 and Red Road.
The Fairfield Inn & Suites plans to have 112 guest rooms & suites, outdoor pool, and fitness center. The hotel will be situated within AVE, a mixed-use business park situated on the Southwestern portion of the Opa-Locka Executive Airport. Upon build-out, AVE will be the home to banks, shops, restaurants, office/flex warehouse distribution facilities and corporate jet hangers. AVE is located adjacent to, and east of, Miami Lakes and minutes from the major Miami-Dade highways.
The Fairfield Inn & Suites site is located only 10 minutes from Hard Rock Stadium (home to University of Miami's college football team), 35 minutes from Downtown Miami, 30 minutes from Miami Beach and only 20 minutes from Miami International Airport.
For more information or media inquiries, please contact Brittany Bou-Sliman at brittany(at)napleshotelgroup(dot)com or 239-206-4273.
About Naples Hotel Group
Naples Hotel Group is a hotel development and management company founded in 1999. NHG has achieved superior results and has a proven ability to enhance the performance of hotels through the use of their experience, responsiveness and extensive resources. NHG, based in Naples and Orlando, prides itself on building long-term relationships with quality people and organizations. To learn more visit,
http://www.napleshotelgroup.com.