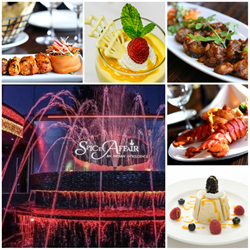 BEVERLY HILLS (PRWEB) October 25, 2016
Another major festival, Diwali which is adding to the festivities. The premiere Indian restaurant in Beverly Hills, Spice Affair is celebrating the auspicious occasion in a very unique style. To mark the festival of lights, Spice Affair has curated an exquisite culinary experience featuring some of the most extravagant and authentic dishes along with live music and entertainment from October 27th to October 30th, 2016.
Ever since it opened in the heart of famous "Restaurant Row" of Beverly Hills, California, Spice Affair has come to be recognized for its bold fusion flavors, exceptional presentation and a distinctive menu with lavish taste. The restaurant has become the meeting point for many Hollywood, Bollywood and international celebrities and glitterati.
The importance of India's main festival has been recognized by the first lady Michelle Obama, who hosts Diwali at the White House every year by lighting the traditional Diya (Indian candle) to signify the triumph of light over darkness and good over evil. The U.S. Postal Service also commemorated the joyous Hindu festival of Diwali by dedicating the Diwali Forever stamp.
People around the world traditionally go shopping, decorate rangolis (colorful powder) with the vibrant and traditional pattern, light diyas, play games, dress their best, enjoy feasts and sweets, exchange gifts, light fireworks and pray to God for wealth and prosperity. It is the time to come together with close friends and family along with ceremonies that include some great delights and dancing.
"We grew up celebrating Diwali with close friends and family," said Puneet Chandak and his wife Sonia Batra – owners of Spice Affair. "It is a festival that brings everyone together across religions and faiths to exchange gifts and sweets. It is the most auspicious day of the year, and we would love to open our place for everyone during this special occasion to become a part of our family and celebrate what it stands for".
Spice Affair has been gained substantial repute amongst celebrities and food critics:
"Best food I've had in America" – Shabana Azmi and Javed Akhtar (renowned Indian Artists)
"Hands down, the best Indian food I've had in town. Each dish they served was better than the last. I have never left a restaurant so full but still wanting more." – Lane Garrison (Actor, Prison Break)
"Both the owners are warm and friendly. Love exudes from the moment you walk-in. The food is unmatched by any other place in the LA area." – Manish Dayal (Actor, Hundred-Foot Journey)
For more reviews visit Yelp - https://www.yelp.com/biz/spice-affair-indian-restaurant-beverly-hills or Trip Advisor - https://www.tripadvisor.com/Restaurant_Review-g32070-d7304207-Reviews-Spice_Affair-Beverly_Hills_California.html
Anupam Bhatia, CEO of Spice Affair says, "Spice Affair is known for taking an unconventional approach to the restaurant business. Just like the food, there will be an infusion of a little spice into the entertainment this Diwali by fusing the classical instruments of India with Middle Eastern dance and adding a fresh touch to music and dance".
Besides the unique and warm experience, Spice Affair also offers many gluten-free, vegan, and vegetarian dishes with fresh ingredients that suit everyone's palate. Their award-winning menu is known for Chargrilled Lobster, Artichoke Hearts from Tandoor, Butter Chicken, Dum Chicken Biryani and Mango Mousse from their special desert Menu.
Indulge in the restaurant's new festive menu that will maintain the tradition and freshness like always.
SPICE AFFAIR DIWALI 2016 SPECIALS
*Saturday, October 29 - Extensive buffet with Choley Bhaturey, Live Vada Pao Station and Elaborate Indian and other desserts. - $35
*Sunday, October 30 - Extensive Buffet with South Indian influence along with biryanis, Live Uttapam station with creative toppings and extensive dessert station - $35
*In addition to our regular menu, we are offering these special Diwali dishes exclusively from Oct 27-30
Appetizers:
VADA PAO
SUNDRIED TOMATO, OLIVE AND ONION BHAJIYA
MURG PARCHA KEBAB: Thin slivers of chicken marinated in Almond paste, cream and yoghurt finished on the griddle.
Lamb Galouti Kebab
Poha crusted Shrimps with Tomato Chutney
Dinner:
Murg Do Pyaza
Achari Goat
Shrimp Balchao
Paneer Kaju Makhana
Shaam Savera
Three Mushroom Biryani.
Dessert:
Orange Mango Mousse
Gajjar Halwa Cresent with Rabdi
Assorted Dessert Platters
What: Diwali Feast and Festivities
When: October 27th to October 30th
Where: Spice Affair Indian Restaurant
50 N La Cienega Blvd #120
Beverly Hills, CA 90211
Why: Spice up your festivities
We would like to extend a special invitation to all the members of media for our festivities.
Life gives us many reasons to celebrate and festivals are one of them. With the festivities just around the corner, come fall in love with the flavor of the month at Spice Affair and enjoy the delightful dishes along with the seasonal treats.
Contact us:
Phone # – 310-400-6800
Website – http://www.spice-affair.com
Facebook – https://www.facebook.com/spiceaffair
Instagram – https://www.instagram.com/spiceaffairla/
Twitter – https://twitter.com/spiceaffairla
Copyright © 2016 Cosmo City Media, All rights reserved.
Seema Govil,
Public Relations Coordinator for Spice Affair
Phone: (512) 762-7387
seema(at)cosmocitymedia.com