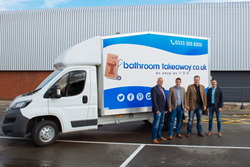 Bathroom Takeaway Managing Director, Julian Smith, said: "We are thrilled to be opening our first Takeaway store and will receive the keys in a couple of weeks so there's lots of work to be done. We're hoping to be up and running by mid-November and
(PRWEB UK) 26 October 2016
Online bathroom retailer, BathroomTakeaway.co.uk is delighted to announce plans to open their first Takeaway outlet on Regent Road, Manchester which will be cash free, accepting cards and Apple Pay only.
The Trafford Park based online bathroom retailer is investing £350,000 in the area with the new store which is 3617 sq ft in size and will create 6 jobs in the area.
The store will showcase Bathroom Takeaway's wide range of bathroom suites and furniture units which are to suit everyone's budget. Suites will include low cost bathrooms that can be accessorised to individual tastes through to luxurious bathrooms which have been styled by ITV's This Morning's interior stylist Maxine Brady priced from just £199.97
Bathroom Takeaway Managing Director, Julian Smith, said: "We are thrilled to be opening our first Takeaway store and will receive the keys in a couple of weeks so there's lots of work to be done. We're hoping to be up and running by mid-November and are currently on the lookout for shop assistants and welcome all cv's to be sent to hr@bathroomtakeaway.co.uk. The plan is to open 14 takeaways across the UK and we're delighted to open our very first here on what is officially the busiest road in Greater Manchester."
Located along the popular commuter road into Manchester (A57 off M602), next to Topps Tiles, Bathroom Takeaway's store is easy to get to and in a prominent position.
Bathroom Takeaway, was founded in 2010, and has over 100,000 bathroom products which are stocked and delivered from their National Distribution Centre based in Trafford Park.
-ENDS-
For more information and images please contact Ruth Douglass PR on douglass(dot)ruth(at)gmail.com or 0788 301 3079
About Bathroom Takeaway:
Buying a new bathroom should be as easy as 1-2-3.
Simply choose from the latest range of designer quality styles, click to order, then sit back and let us deliver it to your door. No gimmicks, no never ending sales, no confusing pricing.
From bathroom suites to cloakroom toilets, showers and en-suites to taps and heated towel rails, all Bathroom Takeaway ranges offer exceptional quality and even better value for money.
Founder and Managing Director Julian Smith formerly held the positions of Supply Chain Director at Grafton Group plc (2007-2012), and was Trading Director at Plumbworld.co.uk (2005-2007) at which he was a member of the board who sold the business to Grafton Group plc in December 2006