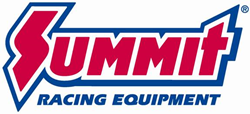 Tallmadge, OH (PRWEB) October 27, 2016
Summit Racing now offers Frostbite Performance Billet Electric Water Pumps, World Products' SBC Motown LS Engine Block, and the latest carburetor and fuel system parts from Quick Fuel Technology.
Frostbite Performance Billet Electric Water Pumps
Frostbite Performance Cooling's new billet electric water pumps move up to 40 gallons per minute—plenty of flow for performance applications. Since they're electric, there's no drive belt and no horsepower loss. The water pumps are made from aluminum, which means they weigh much less than pumps with the typical cast iron housing.
World Products SBC Motown LS Engine Block
The SBC Motown LS Engine Block has the. the familiar small block Chevy mounting architecture, but is designed specifically for use with LS-style cylinder heads and intake manifolds. The means an engine based on a SBC Motown block will drop right in where a small block Chevy fits, and an engine builder can use Gen 1small block rotating assemblies, oil pumps and pans, distributors, accessory drives, starters, and other components.
Quick Fuel Technology Fuel System Parts
The folks at Quick Fuel Technology have been hard at work developing fuel delivery solutions that offer predictable performance on the street and shave down ETs at the track. Some of their newest products include the innovative FOUR DOOR Power Valves, E85 Billet Metering Block Conversion Kits, and Die-Cast Carburetor Base Plates.
Summit Racing Equipment
http://www.summitracing.com
1-800-230-3030