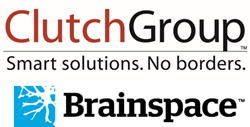 Our ongoing integration with Brainspace's intelligent predictive coding workflow has become an integral force multiplier for our clients
New York, NY (PRWEB) October 26, 2016
Clutch Group, a leading legal, risk, and compliance analytics and consulting firm today announced a unique partnership with Brainspace, a recognized leader in creating enterprise software to derive meaning from unstructured data. The addition of this robust platform through a Clutch Group partnership looks to create high performance eDiscovery, litigation and investigation, and surveillance services.
"This is an exciting endeavor for our organization that will provide clients with unparalleled eDiscovery performance, data analytics and reporting when they need to make their most important decisions," said Brandon Daniels, President, Clutch Group. "Our ongoing integration with Brainspace's intelligent predictive coding workflow has become an integral force multiplier for our clients, providing clarity and accuracy that is unmatched."
"The complex regulatory environment and explosive growth in data are creating a new set of challenges that can be uniquely solved by the technologies and services emerging from this new partnership," said Dave Copps, CEO of Brainspace. "Our patented machine learning platform and visual analytics capabilities have set a new standard for analytics in areas like internal investigations, compliance and risk, and this unique Integration by Clutch Group will radically improve productivity and effectiveness across the board."
This new and innovative partnership with Brainspace aims to assist highly regulated industries in managing their extensive and often desperate integrations and solutions to meet compliance and regulatory requirements. Clutch Group has additionally announced partnerships with kCura and Nuix, which were identified as market leaders that are consistently being recognized for their own innovation and technology, something that Clutch Group has pushed to make a key differentiator in the legal, risk and compliance industry.
About Brainspace
Brainspace is a pioneer and recognized leader in helping enterprise clients derive meaning, gain insights and identify human connections in unstructured data. Our unique solutions utilize our patented Brainspace platform and are leading the industry in text analytics, accelerating institutional learning and reinventing how organizations exchange knowledge and expertise. Our customers include the Fortune 500, leading consulting firms, legal service providers, and government agencies.
About Clutch
Clutch Group is a leading legal, risk, and compliance analytics and consulting firm headquartered in Washington D.C., with offices in NY, Chicago, London, Bangalore, Zurich and Hong Kong. The firm is dedicated to helping companies in the financial services, life sciences, and energy industries solve complex problems presented by the exponential growth of data and regulation. Clutch's global team of attorneys, consultants, and technologists leverage deep subject-matter expertise and Clutch.IQ, a suite of cutting-edge data analytics solutions, to help clients manage large-scale litigation and investigations, conduct comprehensive communications surveillance, and re-engineer their internal legal and compliance functions. Clutch has been recognized by industry authorities including Nelson Hall, the New York Law Journal, Chambers Global, Frost & Sullivan, and Dun & Bradstreet and is regularly featured across major industry and market publications. For more information, visit http://www.clutchgroup.com.