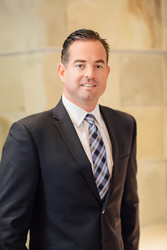 "Terence not only fits the Alterra culture and beliefs, but his skills and experience will help us reach our growth goals," said President and CEO Jason Madiedo. "We are extremely excited to have him join our family."
Las Vegas, NV (PRWEB) October 26, 2016
Alterra Home Loans has hired Terence Murray as its new Western Division Sales & Expansion VP. Murray will be responsible for managing and supporting the western region for Alterra's retail production and expansion.
With more than a decade of experience in the mortgage business, Murray will use his leadership and expertise to bring growth to the western region—an important step in building on Alterra's mission to creating wealth through homeownership.
"I joined Alterra because this team is truly committed to their community, from loan officers, to referral partners, to their clients," Murray said. "I believe in the leadership, culture and vision here, all which has built an infrastructure that sets us up for continued success and longevity in this business."
Before joining the Alterra Home Loans team, Murray served as the Regional Sales Expansion Manager at Prospect Mortgage, LLC. In that role, he was responsible for bringing in $350 million to $400 million in annual closed loan production, bringing new branches to strategic markets and managing a team of recruiters. He was also recognized as a top performer in retention and received several awards, including Recruiting Partner of the Year, Prospect Mortgage MVP and the Mike Moore Award.
Before that, Murray also experienced great success as a Sr. Loan Consultant and Mortgage Banker with Merrill Lynch.
The addition of Murray to the Alterra family is one step in Alterra Home Loans plan to continue on a growth path into 2017.
"Terence not only fits the Alterra culture and beliefs, but his skills and experience will help us reach our growth goals," said President and CEO Jason Madiedo. "We are extremely excited to have him join our family."
About Alterra Home Loans
Alterra Home Loans is a minority-owned, top U.S. mortgage bank and the second-largest Hispanic-owned mortgage company in the country. With loan coverage in 12 U.S. states, Alterra strives to represent the underserved in the mortgage industry, specifically serving the Hispanic community to help build wealth through home ownership.