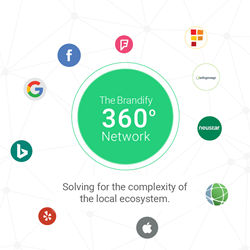 "Our clients find that every dollar invested in our holistic organic search optimization drives far more traffic to their locations with better attribution than the same amount in paid search advertising."
New York, NY (PRWEB) October 26, 2016
Brandify, awarded the "Best Dashboard for Managing Local Campaigns" at the 2016 Street Fight Summit, continues to lead in Local with its announcement of the Brandify 360° Network, an enhanced listings and syndication offering. The announcement represents a significant expansion of the company's direct partner relationships and a comprehensive approach to instant location data distribution and visibility across the local ecosystem.
Brandify 360° finally speaks to the core challenge of local marketing for enterprises by instantly distributing listings information across the web that is accurate, consistent and complete, while offering distribution visibility and insights on consumer behavior. With 125,000 listings under its management, Brandify enables enterprises to solve for complexity of the local search ecosystem through the delivery of quality, manageable and immediate location data distribution.
The Brandify 360° Network offers instant geocoded data distribution to ensure consistency of location placement with location name, address, hours and photos, to 18 publishers including Google, Foursquare, Facebook, Bing, MerchantCircle and Judy's Book. Beyond holistic location data distribution, Brandify distinguishes itself as the only presence management solution that detects, cleanses, structures, and deduplicates enterprise data to serve as the single source of truth to power all consumer engagement channels. Instead of automating the listings management process by suppressing and potentially duplicating listings, a highly adopted tactic in the market, Brandify marries technology and a white-glove service to prevent issues propagating within the ecosystem.
"The Brandify 360° Network is significant enhancement to ensures that your stores, branches or dealers are always found and ready to serve customers through the scale of our 200-directory network and the quality service of our team as an extension of your marketing department," said Manish Patel, CEO of Brandify. "Our clients find that every dollar invested in our holistic organic search optimization drives far more traffic to their locations with better attribution than the same amount in paid search advertising."
Multi-location enterprises are invited to explore the breadth and capabilities of the Brandify 360° Network by running a free Quick Scan report for up to 25 business locations. Brandify's Quick Scan report is the only free tool on the market that reports on the accuracy of listings across multiple directories while offering a snapshot of online reviews, search performance and social engagement.
About Brandify
Brandify is the single answer to Local, connecting global brands with consumers in the moment by leveraging the most comprehensive location technology solutions in the market. Brandify has simply connected over 500 global brands in over 4.5 million locations, including healthcare, finance, and retail, to consumers worldwide since 1997. The company provides the multi-location digital marketing technology, services and intelligence needed to understand consumer intent. Marketers can simplify local decisioning with actionable recommendations, using its' field-tested benchmarking metric, Brandscore.
About Street Fight:
Street Fight is an integrated media company focused on the business of hyperlocal marketing, commerce and technology. Street Fight produces a newsletter for over 9,000 daily readers, publishes commentary, original research, case studies, and how-to articles on their website, and hosts a series of live annual events to help the hyperlocal ecosystem achieve sustainable business models. To learn more, visit http://streetfightmag.com or contact us directly at info(at)streetfightmag(dot)com
Useful Links:
Brandify Website
Learn more about The Brandify 360° Network
Twitter: https://twitter.com/GoBrandify