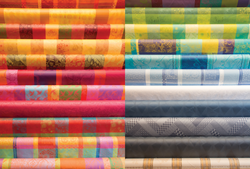 The new color palette is great for the upcoming entertaining season. These patterns are perfect for every occasion from casual to formal. - Jonathan (owner)
Cambridge, MA (PRWEB) November 01, 2016
Tabletop and outdoor furniture store Didriks will be hosting their 3rd annual Fall trunk show to showcase the new Fall/Winter collection from luxury French cotton brand Garnier-Thiebaut.
Didriks offers a broad range of Garnier-Thiebaut Garnier-Thiebaut textiles, including tea towels, napkins, and tablecloths in dozens of patterns and styles. They stock an array of tablecloth options,100% cotton as well as stain-resistant cotton styles. The acrylic-coated stain-resistant styles feature a coating that creates a durable surface that is easy to wipe clean. The coated tablecloths are made-to-measure and can be cut to size on site for an ideal fit. The Green Sweet stain-resistant styles make up the Heritage Dining Collection, a versatile, treated collection that repels liquid and is machine washable, luxury built to last.
Didriks' owner Jonathan is excited about the launch saying, "The new autumn color palette is great for the upcoming entertaining season. These patterns are perfect for every occasion, from casual to formal."
One of the many coated fabrics, Mille Mosaic Denim, has an interlocking geometric design that creates a contemporary table suitable for everyday dining. The Green Sweet design Eleonore Dore is a stunning gold-toned pattern that brings impeccable elegance to a formal table. Both will be available at the trunk show.
The trunk show will be held at both the Cambridge and Newton Lower Falls Didriks locations on the weekend of November 5th and 6th. Didriks will be offering 20% off all Garnier-Thiebaut stock now through November 6th. The trunk show will be an ideal opportunity to invest in these beautiful, easy-care table linens. This offer will also be valid online using promotional code GT16.
About Didriks
Since 2004, Didriks has helped customers create inspired home environments, showcasing fine outdoor furniture, tableware and home decor products sourced from the United States and Europe. Online at Didriks.com.
Didriks is located at 190 Concord Ave. on Observatory Hill in Cambridge and at The Mill at Newton Lower Falls, 2284 Washington St. For more information, call 617-354-5700 or visit the website at Didriks.com