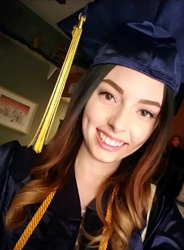 During the interview, I found the employer's representatives had many questions about the badges; the more we spoke about them, the more impressed they were.
Mesa, AZ (PRWEB) October 28, 2016
A powerful combination of individual effort, institutional support and technology is driving students to find gainful employment upon graduation. While a student at Pima Medical Institute, Nychelle Steen used competency-based credentials earned through Wonderlic, a leader in testing and assessments for employers and educators. Now she's living her dream.
Like so many others who are reluctant to seek postsecondary education, Steen did not consider herself a traditionally "good" student. There was anxiety, a lack of confidence, and a lack of direction. Things started to change when Steen realized the impact she could make in the medical field.
Inspired by the care she received from medical assistants at her physician's office, she soon discovered Pima Medical Institute. Within weeks, she had visited the campus, enrolled in classes and started her journey into the profession. The learning environment at Pima Medical was unlike anything Steen had experienced in her life. From the personalized instructor attention to the support system of other students to the guidance of career services, Steen was set up to thrive at Pima Medical.
"In addition to providing an excellent medical education, my department specifically focuses on building professionals. We engage our students from the get-go and motivate them to start building their professional portfolios as they move forward in school," said Steen's Career Services Advisor, Alexandria Ferrara.
"Ally in career services really is an amazing person," Steen said. "I really owe a lot of my success to her. She is a wonderful advisor. She was always available for me to bug her with any questions or concerns I had."
Always looking for ways to help students, Ferrara discovered the Wonderlic Competency-Based Assessments that award digital badges for successful demonstration of job skills. Competency-based assessments use interactive questions to measure applied knowledge. Ferrara recognized the value of the assessments and quickly arranged for Steen and her classmates to have the opportunity to earn digital badges.
"The assessment was challenging and a lot of my students were nervous at first. However, taking the test and seeing that they possessed skill strengths was just the boost of confidence they needed," said Ferrara. "They were able to proceed with taking the national certification and apply for jobs without fear of rejection or failure."
Additionally, the digital badges helped Steen and other Pima Medical students improve other aspects of their job hunt.
"The students who completed competency-based assessments demonstrated a great improvement in their interviewing skills and resume writing," said Ferrara.
Steen was a high performer, earning 12 out of 15 badges offered in Wonderlic's Medical Assistant Program. Steen quickly incorporated her badges into her resume and immediately found out how much they could help her get a job.
"My badges are now proudly displayed under my 'Skills' on my resume," Steen said. "I had an interview with an office a week later and sent them my resume with a brief explanation of what the badges were. During the interview, I found the employer's representatives had many questions about the badges; the more we spoke about them, the more impressed they were."
After securing five interviews, Steen accepted an offer with a general health practice. Throughout her education, Steen found her medical curiosity spanned a number of topics and was delighted to find a position that enables her to engage with a wide variety of patients.
Advisors like Ferrara are bringing twenty-first-century job search resources into the classroom. Ultimately, there are two clear beneficiaries from technologies like digital badges: Students like Steen who can better document and articulate their skills, and employers who can more easily identify the job candidates who possess the skills that they value most.
For more information and a complete list of programs offered at each campus, visit http://www.pmi.edu or call 1-888-442-5998.
Pima Media Contact:
Elizabeth Baker
Public Relations and Communications Specialist
480-610-6068, ebaker@pmi.edu
About Pima Medical Institute
Pima Medical Institute is a private, accredited school dedicated to provide students classroom studies paired with real-world training at medical facilities. Established in 1972, Pima Medical Institute helps students become career ready, focusing exclusively on healthcare professions, including medical, dental, veterinary and nursing fields. Curriculum includes certificate, associate degree and bachelor's degree programs, ranging from nursing, medical assistant and radiology technician to veterinary assistant and dental hygienist.
Pima Medical Institute operates 16 campuses as well as an extensive online curriculum. The medical career college has a presence in eight western states with ground locations in Albuquerque, N.M.; Tucson, Phoenix and Mesa, Ariz.; Denver and Colorado Springs, Colo.; Seattle and Renton, Wash.; Las Vegas, N.V.; Houston and El Paso, Texas; Chula Vista, Calif.; and Dillon, Mont.
About Wonderlic
Wonderlic is a privately held company headquartered in Vernon Hills, IL and a founding member of the Association of Test Publishers. The company provides businesses and schools with a comprehensive library of highly regarded assessments and surveys for each phase of the hiring and student selection process. In its 75+ year history, Wonderlic has delivered over 300 million assessments and surveys for more than 60,000 organizations, government agencies, and accrediting bodies.