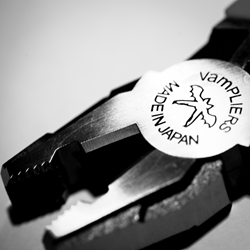 Irvine, California (PRWEB) October 27, 2016
Vampire Tools, pioneer of the patented VamPLIERS™ screw extracting pliers, is set to take the SEMA Show by storm this November 1 - November 4, 2016, at the Las Vegas Convention Center, located at 3150 Paradise Road, Las Vegas, NV 89109. The Orange County tool company's very first SEMA appearance, Vampire Tools anticipates making a buzz as they do what they do best: showcase their revolutionary tools.
The SEMA Show is the premier automotive specialty products trade event in the world, drawing industry leaders in automotive innovation from all over the world. Vampire Tools (http://www.vampiretools.com) invites all who are planning to attend to stop by their display at Booth #51242 in the hall dedicated to First-Time and Featured Exhibitors in the Performance Pavilion and Bronze Lot of the Convention Center, across the street from the South Hall. Every visitor to the booth will receive a free raffle ticket, with daily giveaways and prizes.
Vampire Tools, a recognized leader in hand tools for removing damaged, stripped and security screws, will be showcasing incredible new tools – the long-nose VamPLIERS to get into tight spots, as well as a new tool set for removing recessed screws. There will be also be ongoing demonstrations of the VamPLIERS™, Kevlar shears, electrician's shears and other products. "All attending the SEMA show should make it a point to stop by the Vampire Tools booth and experience the real jaw-dropping moment with the VamPLIERS," said Mirza Basravi, General Manager of Vampire Tools, Inc.
Vampire Tools, and specifically the VamPLIERS™ caused a stir in the automotive industry when they came on the scene in 2012. Basravi says it's because they provide a simple solution to a problem everyone is familiar with. "Our products are show-and-sell products. You may have heard about Vampire Tools, or even read that they're made in Japan with Kobe Steel, but seeing the VamPLIERS™ at work makes all the difference," he explained. "Mechanics know tools. And the automotive repair segment is where Vampire Tools patented tools really shine! We're confident because we see mechanics' reactions to trying the VamPLIERS™ themselves. Once a mechanic has a chance to see and feel our tools in action, they realize that these are something different."
   
About Vampire Tools
Vampire Tools International, Inc. started in 2012 with the vision to revolutionize seemingly straight-forward hand tools through simple, function-driven innovation. The innovative design of our flagship tool, the VamPLIERS™ put us on the map as the most effective tool on the market for extracting stripped fasteners. Also offering Kevlar Shears and super combo scissors for heavy duty fabric and materials, as well as electrician's shears and a cable stripping knife, our mission is to continually introduce new and unique tools to the market that are versatile, technologically intuitive, and time-saving.