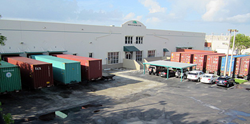 "We Manufacture the Homes of the Future, Today!"
Miami, Florida (PRWEB) October 31, 2016
Innova Eco Building System, a manufacturer of structural insulated panels in Miami Florida has announced the release of its newest product of energy efficient green building panels. Innova has gained Florida Product approval for its 4 ¾" magnesium SIP building panel which it expects to release to the building industry next month. Jerry Gillman, CEO of Innova indicated that the new panel will help the company compete with stick framed construction outside the South Florida market area where wood framed homes are still prevalent. The new panel carries an R value rating of 25 and has been tested for hurricane wind speeds over 200 mph without failure. The company obtained a Dade County NOA last year for its 6 ¾" R38 Coastal Impact region approved MGO SIP panel which was tested at wind speeds exceeding 230 mph without failure.
Gillman indicated that Innova's NOA approved MGO panel competes with masonry construction in the South Florida markets, but the Company has been unable to gain an acceptable market share in the lower wind speed zones of Florida where wood framed construction is still prevalent. Builders will be able to use our new energy efficient MGO SIP panel at a cost comparable with stick framing, while being able to offer their clients the many benefits of MGO SIP without increasing the cost of construction. MGO does not mold, rot and is not affected by Termites. MGO board is moisture resistant and an ideal building material for Florida's wet, damp, hurricane prone environment. MGO board does not require siding or drywall and can be painted for a smooth stucco look on the exterior and taped and finished like drywall on the interior. As a result of the insulating efficiency of SIP, air conditioning sizes can be reduced by as much as 50% in the hot Florida Climate. A study conducted by Oak Ridge National Laboratories indicated that SIP construction was 15 times tighter than stick framed. Because air-tightness and thermal mass are properties that are inherent with SIPs, they will out-perform their given R-Values in comparison to fiberglass insulation. With the use of low voltage lighting and energy efficient window selections, a home constructed with SIP panels will result in savings to homeowners of 50% to 70% on monthly power bills. Add solar hot water and PV system, and clients can achieve energy free living with SIPs.