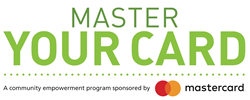 WASHINGTON, D.C. (PRWEB) October 28, 2016
Master Your Card, a community empowerment program sponsored by Mastercard®, today joined educators from Westport Academy in Baltimore, Md., to unveil its interactive, online financial education program to students. This program is part of a community initiative aimed at providing financial education to students in financially underserved communities. In addition to schools in the Baltimore area, Master Your Card is working with schools in East Los Angeles, New York City, the Mississippi Delta and Richmond, Va.
"Through this program, Master Your Card provides students with important financial information and knowledge at an early age to help set them up for financial stability and success," said Nichole Francis, director of U.S. Government Affairs for Mastercard, and liaison to the Master Your Card community empowerment program. "Master Your Card's partnership with EverFi is just one example of our work with groups across the country to provide the information and resources that people of all ages need to navigate our increasingly cashless economy."
Master Your Card partnered with EverFi, Inc., the nation's leading education technology company, to bring this financial education program to students at no cost to schools or taxpayers. Available to all schools in Baltimore, the program uses the latest in simulation and gaming technologies to bring financial concepts to life for today's digital generation.
"As educators, our goal is to prepare our students for successful futures," said Tisha Little, sixth grade math teacher at Westport Academy. "Working with Master Your Card and EverFi, we create a solid financial foundation that allows our students to set goals, work towards their aspirations and reach their full potential."
Administered by teachers in the classroom, the two-and-a-half‐hour curriculum aligns with both state and national standards, and covers a range of critical financial topics such as saving, budgeting, credit and debt, careers and income.
###
About Master Your Card
Master Your Card is a community empowerment program sponsored by Mastercard® to help consumer advocacy groups, small business groups and governments appreciate the value of credit, prepaid and debit cards as access points to an economically empowering electronic payments network. Learn more at http://www.masteryourcardusa.org.
About EverFi
EverFi, Inc. is the leading education technology company focused on teaching, assessing, and certifying K-12 and college students in the critical skills they need for life. The company teams with major corporations and foundations to provide the programs at no cost to K-12 schools. Some of America's leading CEOs and venture capital firms are EverFi investors including Amazon founder and CEO Jeff Bezos, Twitter founder Evan Williams, and Google Chairman Eric Schmidt. Learn more at everfi.com.