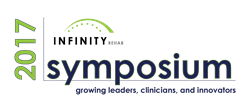 "The presenters include some of the foremost minds in our fields and will share ideas and practical approaches to therapy that attendees can implement in their everyday practice."
Portland, Oregon (PRWEB) October 31, 2016
Infinity Rehab continues their tradition of providing both Infinity employees and non-employees alike with two unique learning events – the Northwest and Mountain Continuing Education Symposiums. The two events give physical therapists, physical therapist assistants, occupational therapists, certified occupational therapy assistants, and speech-language pathologists the opportunity to earn valuable continuing education credits and network with fellow health care professionals.
"We are very excited about the caliber of speakers that we are bringing in for these events," says Tim Esau, PT, MSPT, Director of Compliance and the head planner for the symposiums. "The presenters include some of the foremost minds in our fields and will share ideas and practical approaches to therapy that attendees can implement in their everyday practice."
The courses are carefully curated to provide maximum take-away knowledge for symposium attendees. Classes include focusing on improving clinical outcomes, exploring leadership principles, taking the stress out of documentation, and using Allen Cognitive Levels to drive therapy planning. A full list of classes will be announced in the coming weeks. Pre-registration is now open and can be accessed at http://www.infinityrehab.com/symposium.
"A central tenant of our long-term vision is to inspire individuals to grow as leaders, clinicians, and innovators," says Mike Billings, PT, DHSc, CEEAA and President of Infinity Rehab. "The Infinity Rehab Continuing Education Symposiums are just one of the ways we enable therapists to pursue unparalleled quality and knowledge so they can in turn have a greater impact on the communities they serve."
Mountain Continuing Education Symposium: April 22, 2017 in Aurora, CO
Northwest Continuing Education Symposium: May 6-7, 2017 in Portland, OR
About Infinity Rehab
Established in 1999, Infinity Rehab is a leading provider of clinically intensive, comprehensive physical, occupational and speech therapy in sub-acute and long-term care environments. The company was founded and is led by a team of therapists. Infinity Rehab is a member of the Avamere Family of Companies and has operations in 13 states. To learn more, visit http://www.infinityrehab.com.