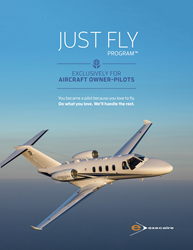 "We help aircraft owners go from acquisition to flying extremely quickly", says Execaire GM Michael Fedele. "Equally important to owner-pilots, we take the hassle out of preparing a PORD and operating privately under CAR 604 regulations."
Orlando, Florida (PRWEB) November 01, 2016
At the NBAA Convention today, Execaire announced that the first member of the company's Just Fly Program™ launched flight operations.
The Just Fly Program™ is a 360⁰ aircraft administration solution for owners who want to fly their own aircraft under their own PORD (Private Operating Registration Document). It allows these owner-pilots to focus on flying, rather than the complexities of aircraft ownership, administration and operation.
The first aircraft operating under Execaire's Just Fly Program™ is a member of the Cessna Citation family of business jet aircraft. The owner completed the PORD process smoothly, taking his first flight within hours of taking delivery of the aircraft.
Execaire makes aircraft ownership easy
"We help aircraft owners go from acquisition to flying extremely quickly", says Execaire GM Michael Fedele. "Equally important to owner-pilots, we take the hassle out of preparing a PORD and operating privately under CAR 604 regulations."
He adds: "With the stringent requirements of CAR 604 coming into full force on January 31, 2017, the requirements placed on privately operated aircraft will be much closer to those applied to commercial operators. Just Fly Program™ members will be ready for the deadline."
How the Just Fly Program™ Works
The Just Fly Program™ was especially designed for owner-pilots who want to spend time in the air, but don't want to have to worry about document management, compliance, and administration that takes away from their flying experience as well as personal and professional pursuits. Execaire helps members meet their responsibilities as aircraft operators.
Services that make up the Just Fly™ Program include helping to prepare a PORD, creating and maintaining an operating manual, implementing a SMS (safety management system), operations compliance and performing mandatory annual audits and reviews. Execaire also offers advisory services during inspections and audits, and pilot mentorship through the Execaire professional pilot development program. Additional services include competency checks, training administration, maintenance, flight following, concierge services and much more.
Members are also eligible for fuel discounts, preferred insurance pricing, preferred hourly maintenance rates, discounted à la carte services and other benefits.
To find out more about the Just Fly Program, contact Execaire's chief customer advocate Wayne McIntyre at 514.830.6871 or at wayne.mcintyre(at)execaire(dot)com.
Execaire, a division of the IMP Group International Inc., is Canada's longest-serving and prestigious corporate aircraft company. It has managed, maintained and operated aircraft for more than half a century. Execaire provides unrivalled customer service and responds efficiently and promptly to all of our guest and client needs.
Execaire provides a comprehensive range of professional services on a local, regional, and international scale. As of 2015, Execaire's aircraft have accumulated more than 268,000 flight hours, and flown in excess of 107,200,000 miles worldwide, all while maintaining an industry leading safety record. Our safety record, as recognized by IS-BAO certification and an ARGUS Platinum Rating stands as a testament to our compliance with strict operating procedures, and superior qualification standards for our flight crews, maintenance staff, specialized trades, and management.
For more information on Execaire, please visit http://www.execaire.com.
IMP Group International Inc. is a global corporation focused on sustainable growth with a team of over 4,500 experienced people delivering service, quality and value to customers across diverse sectors, such as aerospace & defence, aviation, healthcare, information services, hospitality, and property development.
For more information on IMP Group International Inc., please visit http://www.impgroup.com.
For further information on the Just Fly Program™, contact:
D. Wayne McIntyre
Chief Customer Advocate
Execaire
‪10225 Ryan Avenue‬‬‬‬‬‬
‪Montreal, Quebec (Canada) H9A 1A2‬‬‬‬‬‬
+1.514.830.6871
wayne.mcintyre(at)execaire(dot)com