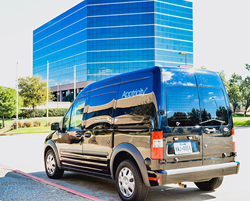 "Apptricity Field Services creates better efficiency in the field with the capability to track all inventory, utilizing RFID, and provide for complete visibility when mobile technicians are in the field." - Tim Garcia, CEO & President
Dallas, Texas (PRWEB) November 02, 2016
Apptricity® Corporation, a leading global provider of innovative mobile enterprise solutions for supply chain management (SCM) and spend management, today announced the introduction of its own Field Services Vehicle to work in conjunction with its current Apptricity Field Services Solution.
Apptricity Field Services in conjunction with the new state-of-the-art Field Services Vehicle, allows for inventory amounts to be automatically updated on the vehicle and recorded for the delivery location instantly, allow for vehicle operators to receive turn-by-turn directions, and use on-demand synchronization to enable productivity even when Internet connectivity is unavailable. The collaboration of Apptricity's newest Field Services Vehicle will begin a revolutionary solution to increase efficiency in the field and for customers.
Apptricity Field Services makes work vehicles intelligent. The Field Services Vehicle creates a "customized mobile experience" to increase the capabilities and productivity of service technicians, first responders, and other organizations with mobile field services or service vehicles. Currently, the Field Services management solution shows scheduled work orders, synchronized with tablets to show accurate tracking for tagged inventory, as well as GPS capability.
"Apptricity Field Services creates better efficiency in the field with the capability to track all inventory, utilizing RFID, and provide for complete visibility when mobile technicians are in the field," said Tim Garcia, CEO & President.
The full integration of Field Services and the Field Services Connected vehicle allows for a fully integrated Supply Chain, and tracking in real time without delays. With less trips, less impact on the environment, and more efficiency, the Apptricity Field Services Vehicle will operate to revolutionize the supply chain.
About Apptricity
Apptricity Corporation is a leading global provider of Internet of Things (IoT) M2M mobile enterprise solutions for supply chain management (SCM) and spend management. Apptricity solutions are valued by commercial and government organizations worldwide providing bottom-line results. Apptricity solutions mobilize any enterprise with unprecedented levels of real-time information and business intelligence so management has visibility into every action and transaction within the enterprise and among its partners, customers and suppliers. Powered by Apptricity JetStream platform, our solutions enhance legacy enterprise applications and extend the value of information technology investments. Our platform enables us to address the universal objectives of business, government and the military with accelerated business processes and command visibility. For more information, visit http://www.apptricity.com.
# # #
Apptricity is a registered trademark of Apptricity Corporation. All other trademarks, registered trademarks and service marks are the property of their respective owners.