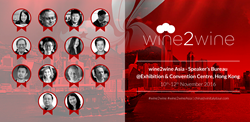 Wine2wine Asia is our first attempt to create a useful networking session dedicated to both the exhibiting producers and the trade attendees, in an effort to address the critical issues specific to China and the rest of Asia
Hong Kong (PRWEB) November 03, 2016
Registration is on for wine2wine (http://www.wine2wine.net/event), the annual wine business forum to be held in Verona on December 6th to 7th, with 100+ speakers and 2000+ attendees. Now, for the first time, this B2B forum also heads East, with the creation of wine2wine Asia (asia.wine2wine.net), a series of breakfast seminars to be held throughout Vinitaly HK, as part of the HKIWSF (Hong Kong International Wine & Spirits Fair) from November 10th to 12th 2016. The aim is to bring the educational and informative platform of wine2wine, albeit at a smaller scale, to Hong Kong, with a special focus on the wine business in the Chinese and Asian markets.
The wine2wine Hong Kong edition, is condensed into three key sessions, an unmissable opportunity to learn from and be inspired by some of the industry's most renowned figures, locally and internationally. Experts will discuss trends and the impelling topics that wine markets in Asia are facing today. Each session begins at 9:15 a.m., and is followed by a networking breakfast.
"Vinitaly has been leading the Italian Pavilion at HKIWSF for the past six years. Wine2wine Asia is our first attempt to create a useful networking session dedicated to both the exhibiting producers and the trade attendees, in an effort to address the critical issues specific to China and the rest of Asia." explains Stevie Kim, Managing Director of Vinitaly International. She adds, "The breakfast sessions will not interfere with business agendas, since it all happens before the official opening hours of the fair. Anyone not here in HK, can participate in all three sessions by joining us via FB Live from the comfort of home, with coffee or wine depending on your time-zone."
Wine2wine Asia opens on November 10th with the "Aftermath of 9/9: is e-commerce the future of wine business in China?" Today, there are 688 million of active internet users and 659 million users on social media in China. Moreover, half of millennials (25-34 years old) are considered middle-class, of which 52% buy wine on line.
Yet after Jack Ma, e-commerce tycoon, announced the very first "Tmall Global Wine & Spirit Festival" at Vinitaly earlier this year, involving 100,000 brands together with 10,000 online stores on September 9th, 2016, no official sales data has been released by Alibaba. Join the expert panel of e-commerce pioneers, Bruno Baudry, CEO of ASC, Davis Luan, Executive VP of Yesmywine, Li Meng, CEO of wajiu.com and Andrew Tan, General Manager of Jiuku (wholly owned subsidiary of 1919.cn), bringing strategic insight to a number of compelling questions regarding the effectiveness of e-commerce and how it can evolve.
The November 11th session turns to the topic of wine education, which has played a central role in a rapidly growing Chinese wine market. Key opinion leaders, wine educators and B2C wine events are often collaborating in an educational network to promote wine culture and wine appreciation, but are these efforts translating into increased wine consumption by local consumers? Ian Harris, Chief Executive at the Wine & Spirit Education Trust (WSET) and Ian D'Agata, the Scientific Director of the Vinitaly International Academy lead a panel of key opinion leaders, wine educators and B2C organisers, offering insight into how wine education is shaping and will continue to shape the Chinese wine market. Just one day after the opening of WSET's first International Office in Hong Kong, Ian Harris, Chief Executive at the WSET, will also join to explain the long-term goal and critical role of education in the development of the Chinese wine market.
The first wine2wine Asia business forum in Hong Kong will close on November 12th with the session, "ABC to wine trade in China". Undoubtedly, China is the world's most sought-after market, but also the most vexing. In this session wine producers poised to penetrate this fascinating market will have the opportunity to explore innovative and creative tools aimed at supporting trade with an expert panel led by Debra Meiburg, Master of Wine, wine journalist and wine educator, and Alan Hung, Executive Director of the Shenzhen PACCO Cultural Communication CO., Ltd.
For more information or to register to the event visit http://asia.wine2wine.net/
About:
Veronafiere is the leading organizer of trade shows in Italy including Vinitaly (http://www.vinitaly.com), the largest wine and spirits fair in the world. During its 50th edition Vinitaly counted more than 4,100 exhibitors on a 100,000+ square meter area and 130,000 visitors from 140 different countries. The next edition of the fair will take place on 9 - 12 April 2017. The premier event to Vinitaly, OperaWine (http://www.operawine.it) "Finest Italian Wines: 100 Great Producers," will unite international wine professionals on April 8th in the heart of Verona, offering them the unique opportunity to discover and taste the wines of the 100 Best Italian Producers, as selected by Wine Spectator. Since 1998 Vinitaly International travels to several countries such as Russia, China, USA and Hong Kong thanks to its strategic arm abroad, Vinitaly International. In February 2014 Vinitaly International launched an educational project, the Vinitaly International Academy (VIA) with the aim of divulging and broadcasting the excellence and diversity of Italian wine around the globe. VIA this year launched the second edition of its Certification Course and today counts 54 Italian Wine Ambassadors and 3 Italian Wine Experts.
###