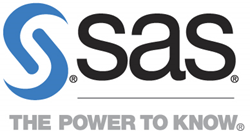 Cary, NC (PRWEB) November 03, 2016
It's a rough-and-tumble town, and data is on the loose – blowing around like tumbleweeds. We've only one hope to keep us safe: the data steward. That's why every year, SAS takes a day to honor those who round up the angriest, meanest, biggest, flat-out orneriest data this side of the Pecos.
When data runs wild, it's the data stewards who keep law and order. They wrangle big data, corral and put the brand on it. On Dec. 14, for the sixth year running, SAS will reward your most wanted on International Data Stewards Day, bestowing the highest honor to which a data steward can aspire: the Stewie.
Let us know who your top data stewards are. Submit your entry by Nov. 25. The winner – the 2016 Data Steward of the Year – will walk tall into the sunset. And get some cool SAS swag and bragging rights around the data corral.
Nominations can take any form, so get creative. Previous submissions have included videos, PowerPoint presentations and even poems. Judges include Jim Harris, Dylan Jones and Joyce Norris-Montanari from the Data Roundtable – as well as former winners of the Stewie award.
"This database ain't big enough for the both of us," said Anne Buff of SAS Best Practices. "OK, maybe it is, but only if you've got the speed and agility of a cowpoke with a pair of six shooters. If you're brave enough, nominate yourself or a colleague as this year's Data Steward of the Year."
Who's eligible, you ask? Anyone who's not afraid to stare down the thorniest data disasters in these here parts. Nominees don't need a data steward title. Just a data steward attitude. If they're smart, patient, determined and an all-around data whiz, they qualify. We'll announce the winner Dec. 14 on DataStewardsDay.com.
Visit the website to nominate your favorite data dude or dudette on the ranch: sas.com/en_us/events/datasteward/datasteward2016/datastewardsday-2016/register.html
About SAS
SAS is the leader in analytics. Through innovative analytics, business intelligence and data management software and services, SAS helps customers at more than 80,000 sites make better decisions faster. Since 1976, SAS has been giving customers around the world THE POWER TO KNOW®. SAS and all other SAS Institute Inc. product or service names are registered trademarks or trademarks of SAS Institute Inc. in the USA and other countries. ® indicates USA registration. Other brand and product names are trademarks of their respective companies. Copyright © 2016 SAS Institute Inc. All rights reserved.