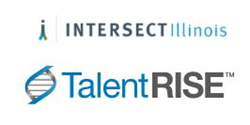 Chicago, IL (PRWEB) November 15, 2016
Intersect Illinois, the state's private economic development agency established earlier this year, has retained executive search, consulting and recruitment solutions firm TalentRISE to conduct its search for a business development leader.
This key leadership role encompasses recruiting, directing and managing staff, policy and programs to retain and expand existing targeted industries in Illinois to attract new business investment to the state. The primary mandate includes promoting Illinois, managing competitive economic development projects, developing lead generation strategy, managing international recruitment and addressing business climate issues.
The agency was established as a direct response to the demands of the business community, serving as a catalyst for Illinois business investment and job growth to drive a more prosperous and diverse state economy. Committed to bringing a fresh approach to economic development, Intersect Illinois is comprised of a diverse team with deep domain experience, adapting best in class processes and procedures to build lasting long-term business relationships.
Chicago-based TalentRISE provides tailored, high-touch consulting and recruitment solutions to meet an organization's most pressing talent acquisition challenges. The firm's core service offerings, delivered by a partner-led team of senior consultants and expert recruiters, include retained executive search to fill critical leadership roles; on-demand, project-based contract recruiting for scalable support of internal resources or longer-term recruitment process outsourcing (RPO) solutions; and talent acquisition consulting to help formulate a roadmap for sustained competitive advantage.