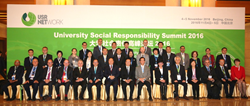 (PRWEB) November 04, 2016
The Opening Ceremony was held at the Diaoyutai State Guesthouse. Addressing the Opening ceremony, Peking University President Professor Lin Jianhua said, "For universities in the Chinese mainland, we have a commitment to take on the responsibility for the society, the nation and the world. Peking University has inherited and has been diligently following this tradition. On the one hand, we teach students to bear social responsibility during their studies and after graduation. On the other hand, the Universities have to bear their responsibility for the community, the region, and the nation, during their course of development and advancement." Professor Lin added, "This is a difficult mission, and it calls for concerted efforts of higher education leaders."
Speaking at the Opening Ceremony, PolyU President Professor Timothy W. Tong said, "Over the last few decades, global challenges such as economic development, environmental protection and technological innovation have driven universities worldwide to redefine their roles and responsibilities beyond traditional education and research in order to bolster their impact on society. Consequently, social responsibility has become a subject high on the agenda."
Professor Tong added, "The USR Network member universities sharing the same vision of making our world increasingly just, inclusive, peaceful and sustainable. With an emphasis on collaboration among members and with other networks and alliances, the Network has vigorously promoted USR by organizing a number of projects including this University Social Responsibility Summit."
This year, the Summit has brought together more than 50 speakers who are higher education leaders and scholars from over 10 countries and regions. They exchanged views at three Presidents' Roundtable sessions respectively themed "Social Responsibility: A Core Mission of Universities in 21st Century?", "USR: Translating Vision into Action and Impact", and "USR in Asia: Challenges and Opportunities".
Plenary sessions held tomorrow (5 November) will include "Community Engagement in Higher Education: Policy and Practice", "Nurturing Future Leaders through Service-Learning: Strategies and Learning Outcomes" and "Building Disaster Response Capacity – University Students as Community First Responders".
This is the first time that the Summit has a separate Student Forum on 4 November at Peking University campus. The Forum attracted more than 100 students, many of them are delegates from the USR Network member universities. In addition, there will be a student presentation tomorrow. Four teams of students from PolyU, PekingU, Sichuan University and Beijing Normal University conducted presentations to share the views and practical experience of USR from the students' perspective. Their presence and contribution at the Summit are evidence of the USR Network's commitment to engaging the university community to address world challenges and shape a better future.
The second Executive Committee meeting of the USR Network was held yesterday (3 November) to discuss the strategies and work for the coming year. With two new members, University of Sao Paulo, Brazil and University of Pretoria, South Africa, the USR Network now include the following 14 universities (in alphabetical order of their country):
Australia | University of New South Wales
Brazil | University of Sao Paulo
Hong Kong, P.R.C. | The Hong Kong Polytechnic University
Israel | University of Haifa
Japan | Kyoto University
Korea | Yonsei University
P.R.C. | Peking University
P.R.C. | Beijing Normal University
P.R.C. | Sichuan University
P.R.C. | South Africa University of Pretoria
U.K. | Clare Hall, University of Cambridge
U.K. | The University of Manchester
U.S.A. | Tufts University
U.S.A. | Washington University in St. Louis
For details of the USR Network, please visit http://www.usrnetwork.org.
Press contact: Sara Lai
Senior Manager, Communications and Public Affairs
Telephone: (852) 3400-3245
E-mail: sara.sl.lai(at)polyu(dot)edu.hk