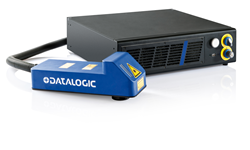 Bologna, Italy (PRWEB) November 08, 2016
Built on Multiwave™ MOPA fiber technology, the new AREX 20MW laser marker sets a new standard in high quality appearance marking on a wide spectrum of high-tech materials.
Because of its innovative laser source architecture, the AREX 20MW laser marker ensures a higher level of contrast, superior marking repeatability and higher resolution in response to industry needs for high quality branding, texturing and traceability.
Thanks to its unique design and configuration, AREX series dramatically simplifies and speed up system integration and machine design: its ultra-compact scan head (only 112x298x90 mm) saves space and installation costs during installation and setup on automatic production lines, and the Embedded Marking Controller (EMC) with Lighter Marking Software Suite dramatically simplify Installation, configuration and setup and daily operations. AREX series thanks to the new MOPA model is a complete family of compact Fiber Laser Markers addressed to Automotive and Electronics industry for Direct Part Marking and engraving on metal parts and components. AREX 20MW ensures superb marking performances, excellent process stability and wider flexibility on a wide range of materials like Automotive thermoplastic polymer and resin.
***
Datalogic Group is a global leader in Automatic Data Capture and Industrial Automation markets. As a world-class producer of bar code readers, mobile computers, sensors for detection, measurement and safety, vision systems and laser marking systems, Datalogic offers innovative solutions for a full range of applications in the retail, transportation & logistics, manufacturing and healthcare industries. With products used in over a third of world's supermarkets and points of sale, airports, shipping and postal services, Datalogic is in a unique position to deliver solutions that can make life easier and more efficient for people. Datalogic S.p.A., listed on the STAR segment of the Italian Stock Exchange since 2001 as DAL.MI, is headquartered in Lippo di Calderara di Reno (Bologna). Datalogic Group as of today employs about 2,500 members of staff worldwide distributed in 30 countries. In 2015 Datalogic Group achieved revenues for 535,1 million Euro and invested over 48 million Euro in Research and Development with a portfolio of about 1,200 patents and pending patent applications in multiple jurisdictions. For more news and information on Datalogic, please visit http://www.datalogic.com.