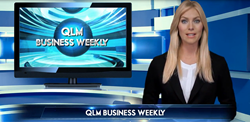 Come watch the show on QLMBusinessNews.com
(PRWEB UK) 16 November 2016
QLM Business Weekly, an online show featuring news and tips for business owners and consumers, has a new episode coming 16 November 2015. The 20–30 minute show is hosted on QLMBusinessNews.com's Digital Media Channel and focuses on small business owners and entrepreneurs.
This episode will feature interviews with five UK small business-owners:

Konstantinos Kapelas for Total Health Now Clinic, who was featured on "Finding the Right Alternative Health Expert."
Sarah Cozens for Nutkin Nannies, who was featured on "Finding the Right Nanny Agency."
Andrew Harrison, for Harrison Architects & Designers Ltd., who was featured on "Finding the right Architect and Interior Designer."
Danny Hensman, for D H Plumbing & Heating Services, who was featured on "Finding the Right Plumbing and Heating Company."
Nick Kyprianou, for All Seasons Valeters, who was featured on "Finding the Right Car Detailing Company."
Henry Smith, founder of QLM Business News, part of the QLM Business Solutions Group, explained, "QLM Business Weekly is designed to educate and assist business owners and consumers in making smarter purchasing decisions, by featuring business experts who can share how to find the right professionals in their industries."
The show hopes to teach consumers and business owners what to look for and what questions to ask while also searching for solutions for their home or business. "It showcases company news, interviews, stories and updates," Henry Smith added. "Come watch the show on qlmbusinessnews.com."
Click here to watch the episode. For more information, please visit http://www.qlmbusinessnews.com/.
About QLM Business Weekly
QLM Business News launched QLM Business Weekly to offer market analysis, business news, interviews, stories, and updates from small- and medium-size businesses. The show will focus on a wide array of industries, including business and finance, markets and trading, technology, property and maintenance, health and fitness, travel, relationships, home and garden, fashion and beauty, education, food and entertainment, pet care, and more.
About QLM Business News
QLM Business Solutions launched QLM Business News Digital Media Channel in 2016 to offer the latest business news as well as market analyses. Entrepreneurs can benefit immensely by visiting this digital news site because they can make quicker decisions with the information they obtain to combat the ever-increasing competition in the commercial world.
Founded in 2010, QLM Business Solutions provides marketing strategies and systems to clients looking to innovate their company's marketing. QLM Business Solutions' Marketing Consultants help their clients by not merely selling websites or ad space but by working with business owners to develop strategies and content to generate more business and drive better marketing campaigns