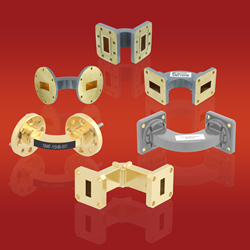 "To meet the urgent needs of our customers, we are pleased to offer a full range of ready-to-ship waveguide bends over 12 bands from C to W frequencies in both H and E plane configurations," said Brian McCutcheon, VP and GM at Fairview Microwave
Allen, Texas (PRWEB) November 07, 2016
Fairview Microwave Inc., a supplier of on-demand microwave and RF components, launched a new line of waveguide bends operating from 5.85 to 90 GHz across 12 frequency bands (from C band to W band). These waveguide bends are frequently used in applications such as high efficiency RF, test benches, instrumentation, microwave and mm-wave transmissions, MILCOM, SATCOM, radar and telecom.
Precision waveguide bends are used to protect the strength of the transmission signal in waveguide systems that require a signal to turn or bend 90 degrees. These waveguide bends boast low-loss and VSWR as low as 1.08:1 and are available in both E-plane and H-plane configurations. They are constructed with gold plated, oxygen-free hard copper (OFHC) or painted copper alloy, depending on the model. The bends are also offered with either a CPR-style flange or a UG-style flange per the military standard.
Fairview's extensive lines of waveguide bends consist of 30 unique models offered from stock. Sizes range from WR-137 (5.85 GHz) to WR-12 (90 GHz) and most models are RoHS compliant.
"To meet the urgent needs of our customers, we are pleased to offer a full range of ready-to-ship waveguide bends over 12 bands from C to W frequencies in both H and E plane configurations. These new waveguide products perfectly complement our rapidly expanding portfolio of waveguide components," said Brian McCutcheon, Vice President and General Manager at Fairview Microwave.
The new waveguide bends from Fairview are in-stock and ready to ship now. For more detailed information, please visit https://www.fairviewmicrowave.com/rf-products/waveguide-bends.html.Fairview Microwave can be contacted at +1-972-649-6678.
###
About Fairview Microwave:
A leading supplier of on-demand RF and microwave products since 1992, Fairview Microwave offers immediate delivery of RF components including attenuators, adapters, coaxial cable assemblies, connectors, terminations and much more. All products are shipped same-day from the company's ISO 9001:2008 certified production facilities in Allen, Texas.
Press Contact:
Peter McNeil
Fairview Microwave
17792 Fitch
Irvine, CA 92614
(978) 682-6936 x1174