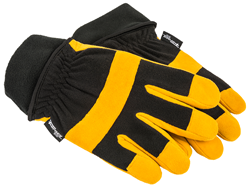 "We are pleased with the two winter glove additions to the ForneyHide brand," said Todd Romero, Senior Product Line Manager. "With the cold weather upon us, it's a great time to introduce them to the market."
Fort Collins, CO (PRWEB) November 08, 2016
Forney Industries announces the addition of two winter work gloves to their ForneyHide™ glove line. With much success over the past few years, ForneyHide™ has been introduced to the automotive, hardware, industrial and farm & ranch markets as well as for general home and workshop use. The new winter styles include leather mittens and utility work gloves designed for those who work in colder conditions.
"We are pleased with these two winter glove additions, with the cold weather soon upon us, it's a great time to introduce them to the market," said Todd Romero, Senior Product Line Manager for ForneyHide™. "Our customers have always been loyal to our line of work gloves because they prove to be well made. They're not only comfortable; they withstand the rigor of our customer's work."
Both the mittens and the work gloves are made with high-quality deerskin leather. This naturally water resistant fabric makes for a comfortable fit and remains soft after exposed to wet, damp conditions.
Design Features:
ForneyHide™ Mittens – The new mittens are popular where the air is more humid and the temperatures more frigid. With their removable heavy, brushed pile sock liner, the mittens keep fingers together to promote extra body heat. They are manufactured using a high-quality suede deerskin leather palm and back allowing the glove to breathe and dry quicker after each use. The design also keeps the warmth in and the cold air and snow out with its elastic retention wristband. The wing thumb offers improved ergonomic movement and comfort.
CAT#'s 53197 (medium), 53198 (large) and 53199 (x-large).
ForneyHide™ Utility Leather Driver Glove – This glove is the number one trending style due to the increased dexterity and comfort in comparison to a full leather driver glove. The glove features a full grain premium deerskin leather palm that provides the best combination of durability and flexibility. The 100c Thinsulate™ and Benberg lining, reduces interior moisture absorption while providing smooth comfort to the skin. This glove also features a moisture-wicking spandex back that creates a snug fit. The elastic retention band at the base of the wrist combined with an extended elastic knit cuff provides superior protection from the cold. CAT#'s 53145 (medium), 53146 (large) and 53147 (x-large).
"My family started this company almost a century ago and high quality has always been, and remains paramount," said Steve Anderson, President and CEO of Forney Industries. "Before any of our products reach our customers, we conduct extensive research and development and the winter gloves are no exception. We always develop manufacturing specifications that are so stringent that the average glove must go through countless iterations before the quality meets our standards. In addition, our customers know that our sales team is credible, reliable and honest. A product doesn't leave our fulfillment center until we know the order is of high-quality and filled correctly."
"We are committed to staying ahead of the curve, providing innovation and solution for our customer," said Romero. "We have an internal mantra of never departing from the Forney Industries' promise of superior form and fit that then allows for exceptional function of the product resulting in quality work for our customers."
Forney Industries is one of America's oldest family-owned, welding and metalworking-product companies. Founded in 1932, the company began with the invention of the instant heat soldering iron and introduced the first publicly available arc welder in the 1940s. Today, the company offers nearly 5,000 products serving the automotive, hardware, farm & ranch and do-it-yourself and industrial markets. Headquartered in Fort Collins, CO, Forney Industries delivers products to all 50 states through its extensive customer-service network. Forney Industries is committed to providing the best product mix and most personal support services available today.
All varieties are now available nationwide and online at http://www.forneyind.com and Amazon.com.