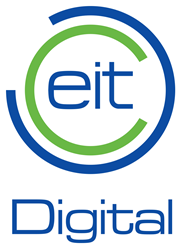 This EIT Digital activity will create the means to support European companies in adapting to new security and privacy challenges and enable better protection for their customers from cyberthreats.
Brussels, Belgium (PRWEB UK) 7 November 2016
The drive to accelerate the European trusted cloud takes a major step forward as European cyber security provider F-Secure starts routing out malicious content in cloud platforms, using an interface produced by an EIT Digital innovation activity.
Last week, F-Secure announced its new "file and link" content protection software , which utilises the deliverables of the Trusted Data Management with Service Ecosystem innovation activity of EIT Digital. The Trusted Data Management innovation activity aims to accelerate European trusted cloud businesses and ecosystems by providing better tools and services for consumers and businesses to take greater control over the use of personal and sensitive data.
Mr. Markku Kutvonen, Director of External R&D Collaboration at F-Secure Corporation, and the EIT Digital innovation activity lead said:
"We have seen big digital transformations in cloudification, Internet-of-Things and EU regulations. This EIT Digital activity will create the means to support European companies in adapting to new security and privacy challenges and enable better protection for their customers from cyberthreats. F-Secure has piloted, with the partners taking part in this activity, a way to remove malicious files and URL's in cloud services, at the times when everything is managed in the cloud and the only user interface is via the browser in a device. This adds important layer of customer security to any independent software vendor's offering."
While cloud computing services have many benefits for companies, security remains a shared responsibility between service providers and customers. Businesses and indiduals using cloud services are responsible for the content they exchange through the service and service providers are required to make the connection secure. Solutions that help secure the content are going to be a big part of securing the cloud.
In addition to F-Secure, other EIT Digital partners participating in the Trusted Data Management with Service Ecosystem Innovation Activity include: British Telecom, Telecom Italia, Reply, Bittium and multitude of SME's and research institutions.
Mr. Kutvonen, continued:
"Thanks to the multiorganisational work model of the innovation activity, we were able to create a ecosystem that combines SME's and bigger corporations in building great services together, addressing real customer problems - something which would have been difficult to achieve otherwise."
In a press release, F-Secure announced that its Cloud Protection file and link content protection software was unveiled at Salesforce's Dreamforce '16 sales conference. First customer pilots are under way and F-Secure expect to launch the solution globally in 2017.
ENDS  
About F-Secure
F-Secure is a European cyber security company with decades of experience in defending enterprises and consumers against everything from opportunistic ransomware infections to advanced cyber-attacks. Its comprehensive set of services and award-winning products use F-Secure's patented security innovations and sophisticated threat intelligence to protect tens of thousands of companies and millions of people, and its products are sold all over the world by over 200 operators and thousands of resellers. 
 
Founded in 1988, F-Secure is listed on the NASDAQ OMX Helsinki Ltd.
About EIT Digital
EIT Digital is a leading European open innovation organisation. Our mission is to foster digital technology innovation and entrepreneurial talent for economic growth and quality of life in Europe. We bring together entrepreneurs from a partnership of over 130 top European corporations, SMEs, start-ups, universities and research institutes.
EIT Digital invests in strategic areas to accelerate the market uptake of research-based digital technologies and to bring entrepreneurial talent and leadership to Europe. Our innovation and education activities are organised in and around our co-location centres, where students, researchers, engineers, business developers and entrepreneurs come together to drive the digitalization of society.
EIT Digital is a Knowledge and Innovation Community of the European Institute of Innovation and Technology (EIT). Since 2010, EIT Digital has consistently mobilised talent, ideas, technologies, investments and business across Europe and beyond to stimulate disruptive digital innovation. EIT Digital headquarters are in Brussels with co-location centres in Berlin, Budapest, Eindhoven, Helsinki, London, Madrid, Paris, Stockholm, Trento and a hub in Silicon Valley.
For more information visit: http://www.eitdigital.eu/
Follow us on Twitter: @EIT_Digital
Follow as on Facebook: https://www.facebook.com/EITDigital