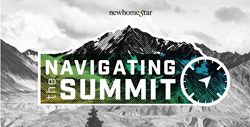 [We're developing] plans that put our builder partners ahead of the curve. -New Home Star Founder David Rice
Colorado Springs, Colo. (PRWEB) November 08, 2016
The top minds in new home sales converged on Colorado for the most insightful industry gathering yet. After another year of growth and expansion, New Home Star hosted their fourth and final quarterly director conference as part of an ongoing training curriculum aimed at arming sales leaders with the most powerful and relevant resources. This particular conference, 'Navigating the Summit,' was designed to create proactive sales operational plans for 2017.
"With so many expert minds in one place, these gatherings allow us to gain incredible insights from around the country and create plans that put our builder partners ahead of the curve," says Founder David Rice. "Our managers spent three full days collaborating to develop sales operational plans for each of their respective builder clients." Each plan encompasses items such as:

Sales Forecasting
Marketing Plan
Inventory/Spec Plan
Personnel Plan
Comprehensive Training Plan
Pricing/Margin/Promotion Plan
Product Segmentation
Cost vs. Willingness-to-Pay Analysis
Economic/Industry Outlook
In addition to creating goals and plans for the coming year, the meeting was purposed with fostering discussion on advanced best practices and providing tactical solutions for common challenges occurring among sales teams.
Over 40 industry leaders gathered on November 1-4, 2016, at the beautiful Cheyenne Mountain Resort in Colorado Springs. Members of the company's Leadership Development Program, a course designed to prepare ambitious sales agents for future management opportunities, also attended. To learn more about New Home Star's mission and vision, visit http://www.newhomestar.com.
About New Home Star
New Home Star is a national real estate sales management firm serving homebuilders and developers across North America. They recruit, select and develop sales teams with a full-time focus on new home sales, and partner with large, midsize and small-scale homebuilders in the U.S. and Canada. With a network of local sales divisions from coast to coast, New Home Star delivers sales solutions for businesses with a national perspective and a local presence. Their business goal is simple: To Sell More Homes, More Profitably™. For the latest updates in new home sales, follow @newhomestar.