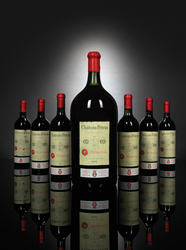 "Our clients have spoken and we've listened, which is why we're focusing on the wines with the greatest provenance in the world." – Zachys President Jeff Zacharia
White Plains, New York (PRWEB) November 09, 2016
Zachys Wine Auctions is delighted to announce The Holiday Auction on December 2 and 3 at Smith & Wollensky, New York City, a 1962-lot auction expected to realize in excess of US $7,000,000.
Of note in this two-day auction is the Private Cellar of Nath. Johnston & Fils, a Bordeaux négociant founded in 1734 and still owned by the current generation of Johnstons. The Johnstons at one point owned Châteaux Ducru-Beaucaillou and Dauzac and nine percent of Château Latour. The wines in this collection were assembled by various generations of Johnstons, were bought on release direct from the Châteaux themselves, and hadn't left Bordeaux prior to being shipped to Zachys for this auction. Without a doubt the highlight of the auction is a 4.5 liter jeroboam (US$30,000-$50,000) and six bottles of Pétrus 1924, bottles that were bought on release, and reconditioned at Pétrus in the 1980s by Jean-Claude Berrouet, with the approval of the Moueix family. Zachys expects the jeroboam to set a world auction record for the wine. The rest of the offering is just as amazing—First and Second Growths, Sauternes and even Bordeaux blanc, all dating back to 1916, many with official letters of reconditioning and authenticity direct from the Châteaux.
Zachys is also proud to offer a deep selection of fine wines Direct from the Faiveley Family Cellars. Of particular note in this consignment is 12 Grands Crus of Faiveley, all packaged together and numbered 0001, and two bottles that survived the Nazi invasion of France. As Erwan Faiveley, winemaker and Director, told Zachys, "the 1928 and 1933 were both made by Georges Faiveley, my great grandfather. When the Germans invaded France during the Second World War, he loaded a few hundred cases in two lorries and drove them to his vacation house in the middle of the Morvan. It was a beautiful property on a lake, with a small chapel on the shore. Under that chapel was a crypt, and that's where he decided to bury them. Just a few weeks later, the Nazis invaded the Morvan. That house was then confiscated by the Germans to become their headquarters. They stayed there for two years, and never found the wines… Those two bottles are survivors!" And now they can be yours!
Finally, after the success of a Spotlight on Italy in 2015, Zachys is delighted to offer more wines from Tuscany and Piedmont, including one of the largest selections of Masseto in private hands ever to come to auction, as well as large formats of the 2006 vintage.
Jeff Zacharia, President of Zachys, comments, "December 2 and 3 are going to be exciting days at Zachys. Our clients have spoken and we've listened, which is why we're focusing on the wines with the greatest provenance in the world, especially three of our highlighted consignments from Nath. Johnston & Fils, Domaine Faiveley, and A Spotlight on Italy. But just to speak out about those would do a disservice to the 1000+ lots from some of our favorite repeat private consignors in this auction! As usual, it's the best of the best, and we can't wait to see all of you at Smith & Wollensky for what has become a Zachys tradition: The Holiday Auction. We expect it's going to be a record-setting day, and we'd like you to be there."
Please contact Zachys at auction[at]zachys[dot]com for more information.