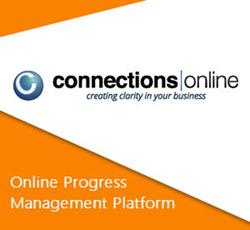 "We know that in today's fast paced business environment you need to do more with less people and our software helps them with effective, transparent efficiency managing every project to strategy."
Cleveland, OH (PRWEB) November 09, 2016
Connections Online introduces the first progress management application that eliminates common barriers to ensure organizations reach their strategic goals as planned. Connections Online is a cloud-based software designed to help managers tie together strategy, projects and people together in one, centralized place. This connection allows the entire team to see the progress towards goals, stay on track and get more done with the resources they have.
The Connections Online progress management solution helps companies align individual and team goals with the overall strategic plan through prioritizing work and managing progress. No other software today clearly connects strategy, projects and people whereby eliminating confusion that can occur from unclear direction and lack of information.
Connections Online begins as a centralized strategic hub for everyone to get on the same page and engage employees so they can see the work they are doing has a direct impact. Project portfolios and team member accountability's allows leaders to track progress, prioritize work, repair bottle-necks and reinforce employee morale.
"We wanted to give every business a place where they could create a more productive workforce, decrease their time in meetings and use their resources more effectively and we think the Connections Online solution does just that," commented President Karla Norwood. "We know that in today's fast paced business environment you need to do more with less people and our software helps them with effective, transparent efficiency managing every project."
The Connections Online progress management application is now available with flexible monthly plans, pricing starting at $99/month for unlimited users. Companies can try the platform today with a 45-day free trial by visiting http://www.connectionsonline.net.
About Connections Online:
Connections Online was founded in 1996 by its parent company, Cardwell Group, a leadership development and strategy execution consulting firm. Already serving companies in the financial services industry for over fifteen years, Connections Online is an award-winning product suite that's well matched for any small to medium sized business in any industry. As a growing software-as-a-service company, Connections Online, through their progress management platform, helps their clients succeed by improving organization-wide alignment and multi-department collaboration.
For more information about Connections Online, visit http://www.connectionsonline.net.