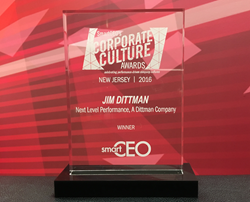 Next Level Performance is always evolving and innovating. We're working hard to be the best at what we do.
New Brunswick, NJ (PRWEB) November 09, 2016
Next Level Performance, a Dittman Company is awarded the SmartCEO Corporate Culture Award for building a successful culture through recognition and engagement. Its employees are motivated to do great work and to strive together to drive the company's values. Next Level Performance knows that it's essential to recognize the right decisions and actions, so employees know their efforts are meaningful and appreciated.
Corporate Culture Awards celebrate a select number of companies in New Jersey who have successfully championed positive, productive, and performance-driven cultures, and have worked with their employees to develop successful cultural practices.
Smart leaders understand that to achieve business goals, it takes the best efforts of every member of the team. Next Level Performance creates a recognition culture, giving meaning and purpose to their team-mates' working lives, and connecting personal hopes and aspirations to the company mission. The company has a proven, thriving culture, creating the right environment for personal and organizational success.
Next Level Performance will be profiled in the November/December issue of SmartCEO magazine, and was celebrated at an awards ceremony this month.
Dave Dittman, Managing Director of Next Level Performance says, "Next Level Performance is always evolving and innovating. We're working hard to be the best at what we do. We are at the leading edge of industry research, developing new employee engagement technology, and delivering award-winning programs."
About Next Level Performance, a Dittman Company
Next Level Performance, a Dittman Company, continues the mission of Dittman Incentive Marketing, helping people and organizations to dig deeper, reach higher, and attain the next level of performance.
For 40 years, the company has been an award-winning leader in providing incentives, recognition, and rewards programs to help companies realize immediate ROI in motivating sales people, employees, channel partners, customers, and consumers. Their signature products and services include: TotalPRO® (Performance Recognition Online) — an incentive, recognition and rewards online software solution (SaaS) – and Deluxe Group Incentive Travel.
For more information visit http://www.nxlperformance.com
About the Corporate Culture Awards and SmartCEO
SmartCEO's mission is to educate and inspire the business community through its award-winning magazine, connections at C-level events and access to valuable online resources. SmartCEO's integrated media platforms reach decision makers in the Baltimore, Boston, Charlotte, Long Island, New Jersey, New York, Philadelphia and Washington, DC, metropolitan areas. The final roster of Corporate Culture winners are chosen by an independent committee of local business leaders, profiled in SmartCEO magazine, and celebrated at a high-energy awards event.