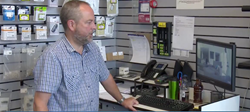 "We've seen intruders look directly into home security cameras, which is really convenient for law enforcement" - Michael Dear, Owner, SpyCentre.com
Dallas, Tx (PRWEB) November 08, 2016
Affordable, High-Tech Home Security Systems Take DIY Homeowners by Storm
Home security systems, like those sold by SpyCentre, have gotten more affordable and user friendly without sacrificing quality.
A home invasion is every homeowner's worst nightmare. But with the help of home security experts like SpyCentre Security Cameras, consumers have more options than ever when it comes to keeping their home safe with technology.
It used to be that home security systems were only accessible to the upper middle class and wealthy. And even then they mostly relied on high-pitched alarms to scare off intruders. But today's home security systems make use of high-tech cameras and are more affordable than ever.
"Intruders look directly into home security cameras, which is really convenient for law enforcement," said Michael Dear, owner of Dallas-based SpyCentre Security Cameras. "You have the highest chances of identifying a suspect if the cameras are installed at face level."
Home security cameras start at $199, but consumers can get a fully-hardwired outdoor camera for as little as $400.
One of the things that makes these home security systems so affordable is the ease at which they can be installed. The cameras are smaller and can be installed anywhere in the home. They often offer WiFi connectability, which allows homeowners to monitor their house with their smartphone or computer.
"Obviously, in the last several years they've really blown up the DIY market, as [it's] far easier for people to do themselves," said Dear in an interview with WFAA.
One of the most popular systems SpyCentre offers is the Ring Video Doorbell. It replaces a standard doorbell and features a WiFi-connected video camera that starts recording whenever anyone shows up near it. It also allows homeowners to communicate to people while being absent from the home.
"There's no shortage of options when it comes to home security," said Dear. "And now that the systems are so affordable, there's really no excuse not to have at least something. Even just the peace of mind it offers is invaluable."
For more information about SpyCentre Security Cameras and their home security options, visit one of their four location in the Dallas area or their website at [https://spycentre.com.
###