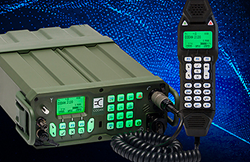 Codan and By Light are excited to provide the government with resilient and reliable HF radio systems that use the most advanced commercial HF technology to support operations and security needs worldwide
Ashburn, VA (PRWEB) November 17, 2016
In partnership with By Light Professional Services, Codan Radio Communications (ASX-CDA) was awarded a $10.4M USD government contract to provide High Frequency (HF) radios to government employees worldwide to ensure operational support and security. Under the contract, the Codan Radio Communications and By Light partnership will share in the $10.4M USD contract ceiling over five years.
Government employees serving abroad in US Embassies and throughout the United States will be given HF radio networks to maintain communications in an effort to improve emergency response efforts. The contract is a five year Blanket Purchase Agreement (BPA) IDIQ Contract issued under the existing By Light GSA Schedule 70 Contract to purchase Codan Envoy and 2110 Manpack HF radio systems (equipment and parts) with training services and support provided by By Light. The BPA Contract is designed to facilitate ordering, provide timely delivery, and guarantee standardization. The total estimated value of the BPA Contract is $10.4M USD with an estimated $6M allocated to Codan.
"Codan and By Light are excited to provide the government with resilient and reliable HF radio systems that use the most advanced commercial HF technology to support operations and security needs worldwide," stated Charlie Stuff, Executive General Manager of Codan Radio Communications.
"The combination of proven, turnkey HF product offerings and expert, vendor certified support ensures robust, cost effective and sustainable solutions to our customer's Radio Programs Branch. By Light is pleased to continue its long standing relationship with Codan and to deliver its technology to this important US Government customer," said Jeff Adelman, By Light Vice President.
In 2015, Codan teamed with By Light to win the US Department of Veterans Affairs HF Radio Network IDIQ Contract, which implemented a nationwide emergency HF radio network using Codan's Envoy radios. By Light is a US-based CMMI Level 3 DEV appraised and ISO 9001:2008 registered Service-Disabled Veteran Owned Small Business (SDVOSB) with a 14-year history of providing mission critical communications solutions and services to the US Department of Defense, Intelligence Community, and commercial customers.
Codan Radio provides communications solutions that enable our customers to save lives, create security and support peacekeeping worldwide. Trusted by the world's largest mission critical, security, military and humanitarian agencies, we've built our reputation for reliability and customer satisfaction over 60 years in High Frequency and Land Mobile Radio communications, in some of the toughest conditions on the planet.