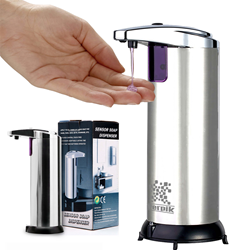 " Smart Tool Smart Life"
California (PRWEB) November 10, 2016
Experts agree, it's sometimes the little extras in a home that make it exceptional. One place that's sometimes neglected and often has room for improvement is the kitchen and bathroom sinks. Enter home accessories brand PerPik, who recently answered the call in this area with the release of their new premium quality, affordable Automatic Touch Free Soap Dispenser, a remarkable amenity that makes washing up a pleasure. Not surprisingly shoppers have greeted the news with enthusiasm.
"Why not have an easier and more comfortable kitchen and bathroom experience," commented a spokesperson from the company. "Our Automatic Soap Dispenser is an all-around premium product that not only works remarkably well, but also looks great. It's a proud, attractive and very functional addition to any smart and stylish kitchen or bathroom. In fact, many customers buy one and are so impressed they quickly follow with a second order."
According to PerPik, the touch free, motion detector activated design of the Automatic Soap Dispenser helps to keep a bathroom or kitchen mess free, while also keeping how much soap is used more firmly under control, reducing waste. The sleek, stainless steel design makes for a well crafted, solid product that's very difficult to damage in any kind of normal use. Any kind of liquid soap, detergent, kitchen soap, hand sanitizer or shower gel can be dispensed depending on the owner's need and desire. Setup and installation are quite simple, fast and easy. The timeless style of the Automatic Soap Dispenser is equally suited for homes, schools and senior centers, businesses and anywhere else people need to keep their hands clean and sanitized.
Early feedback from shoppers has been completely positive for the new product.
Michelle S., from Boston, recently said in a five star review, "I absolutely love our new PerPik Automatic Soap Dispenser. A friend recommended it and we put it in our kitchen. It looks great, functions perfectly and the price was much lower than you would expect. Five stars and fully recommended, for anyone looking for that extra bit of convenience in their homes."
For more information be sure to visit http://perpik.com.
Or You can see it on Amazon here : https://www.amazon.com/dp/B01LX8HFNZ