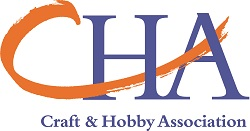 "They have gone above and beyond to make our industry strong and find ways to better lives through their compassion for others." - Roseann Meehan Kermes, CHA Board Member and Industry Awards Committee Chair
Elmwood Park, New Jersey (PRWEB) November 09, 2016
The Craft & Hobby Association (CHA) is pleased to announce the recipients of its 2017 Creative Industry Awards, recognizing excellence in industry service and philanthropy. This year's honorees are Mark Peters, Duncan Enterprises; Therese Hennessy, The Honor Scrapbook; and ShurTech Brands. These individuals and organization were nominated by their CHA member peers and selected by the CHA Industry Awards Committee, which is comprised of CHA Board Members and member volunteers.
"Mark, Therese and ShurTech Brands' employees deserve credit where credit is due," said Roseann Meehan Kermes, CHA Board Member and Industry Awards Committee Chair. "They have gone above and beyond to make our industry strong and find ways to better lives through their compassion for others."
The Meritorious Award is the highest honor that CHA bestows, and acknowledges an individual or group that has made a significant contribution to the Association and industry. This year's recipient is Mark Peters.
Mark Peters has 31 years of marketing, sales, and general management experience, and has been with Duncan Enterprises since 1993, leading both marketing and sales groups before becoming COO in 2006 and President in 2011. In addition to his industry service, Mark gave his time unconditionally to CHA Board and Committee work for over six years, finishing his career as an officer. Michael McCooey of Plaid Enterprises, who nominated Mark, described him as "a great facilitator, thought provoker and true industry leader."
The CHA Special Recognition Award is given to individuals or groups for their extraordinary contributions in positively showcasing the craft and hobby industry. This year's recipients are Therese Hennessy and Shurtech Brands.
Therese Hennessy is the owner of Polkadots and Moore in Mukwonago, WI. In addition, Therese founded The Honor Scrapbook, a non-profit organization that provides scrapbooks at no cost to American military veterans who participate in Honor Flight trips; honor flight trips transport veterans to Washington D.C. to visit memorials dedicated to their service and sacrifices. Therese's mission is to honor those who served and protected their country by supplying them with a custom crafted scrapbook designed to store photos from their trip. Jennifer Jennington of Stamplistic, who nominated Therese, shared that Therese has "devoted countless hours for this mission that can touch so many people" and personally delivers as many scrapbooks as possible.
Shurtech Brands markets do-it-yourself tapes, office and housewares products. The company also prides itself on giving back to more than 200 non-profit organizations annually. A large portion of its financial donations are coordinated through its company-sponsored Helping Hands program. Helping Hands is an employee volunteer program consisting of employee volunteers who initiate fundraising projects throughout the year. Some of the organizations supported by the company financially – through Helping Hands and beyond – include: Cleveland Metroparks Zoo, Junior Achievement, Providence House, Ronald McDonald House, Seeds of Literacy, Cleveland Kids in Need Resource Center, Youth Challenge, St. Martin de Porres High School, St. Ignatius High School, St. Edwards High School, St. Joseph Academy, Rising Star, Bay Arts, American Heart Association, Cleveland Clinic School for Autism, Boys Hope Girls Hope, Community West Foundation through Fairview Hospital, Lake Erie Nature & Science Center, Avon Seniors Inc., Avon High School Scholarship Fund, Second Harvest Food Bank and the Greater Cleveland Fisher House. Beyond financial commitments, ShurTech Brands has also supported various non-profit and community groups through volunteerism and other unique programs.
The awards will be presented during the Creativation Celebration (formerly the CHA Foundation Gala) on Saturday, January 21, 2017 from 6:30pm – 10:00pm during Creativation in Phoenix, AZ. Creativation (formerly the CHA MEGA Conference & Trade Show) will take place January 19-23, 2017 at the Phoenix Convention Center, and is the place where the global creative products community comes together to learn, connect and discover.
Tickets for Creativation Celebration are available for purchase for registered Creativation attendees. For more information about Creativation and to register for an attendee badge, visit http://www.CreativationShow.org.
ABOUT THE CRAFT & HOBBY ASSOCIATION
The Craft & Hobby Association (CHA) is an international non-profit trade association consisting of thousands of member companies engaged in the design, manufacture, distribution and retail sales of products in the worldwide craft and hobby industry. For more information about CHA, membership or its Creativation Show, visit http://www.craftandhobby.org.