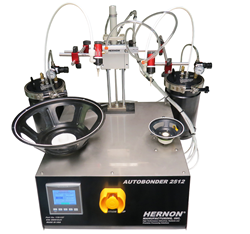 In 2016 alone, Hernon's equipment sales have more than doubled.
Sanford, FL (PRWEB) November 11, 2016
Hernon Manufacturing Inc., maker of high performance adhesives, sealants and the associated dispensing and curing equipment announced today the release of a new product. The Autobonder 2512 replaces a previous version of turntable dispenser, the 2511, and now offers independently operating turntables and streamlined controls via touchscreen Human Machine Interface (HMI). The Autobonder 2512 is intended to ship as a kit including the 2512 control unit, a set of Hernon's Sureshot dispensing valves, a pair of R125 1 gallon pressurized reservoirs and detailed instructions on how to program the independently operated turntables. The machine is designed to apply sealants or adhesives to components along a circular path and is ideal for the manufacturing of speakers and other products with a number of circular components. The system can be remotely activated, manually triggered via a foot-switch or initiated via the PLC start button.
A short video of the Autobonder 2512 in action can be seen here: Autobonder 2512 Dispensing Video
Hernon Manufacturing started offering dispensing machines to compliment the adhesive and sealant products already offered 12 years ago and successfully re-branded themselves as a total solutions provider. The company's equipment sales are now driving a string of successes with Hernon reporting an average of double digit sales growth for the last five years. "While all of our divisions are showing significant growth, the equipment side is clearly leading the charge." Sales and Marketing Director Edgardo Rodriguez commented. In 2016 alone, Hernon's equipment sales have more than doubled. "We are extremely proud of our equipment division," stated Harry Arnon, Hernon's CEO and Co-Founder, "each equipment sale cements a long term relationship with a customer and grants us the opportunity to provide the adhesives or sealants utilized by the dispensing equipment for years to come."
Hernon's impressive sales growth has garnered the company attention from both federal and local groups. Most notably, the company was awarded the presidential "E" award for growth in exports in 2015. More recent awards include the 2016 Manufacturing Leadership Award from Frost and Sullivan, 2016 Top 100 Companies (To Work For) from the Orlando Sentinel and the 2016 Small Manufacturer of the Year Award from the Manufacturing Association of Central Florida (MACF). Notes on these awards and others can be seen in the attached document titled "Hernon Awards and Honors."