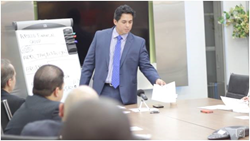 "It's a very exciting time to be in the Oil and Gas business," claims Ricky Brava.
New York, NY (PRWEB) November 14, 2016
One of the key players in Mr. Brava's Oil and Gas Well partnerships is Texas Oil & Gas Management Partner, Anton Glotser.
Mr. Glotser is happy to see how easy and seamless operations are here in the US. The transportation of tens of thousands of dollars worth of crude oil are constantly being transported safely in open fields in the middle of nowhere here in The United States.
"Our partners are growing, and we are consistently acquiring more wells thanks to our partnership with Mr. Brava," explains Anton Glotser.
As the Co-Founder of Mortgage Float, Mr. Brava is the nations go-to guy for performing and non-performing mortgage notes nationwide but he is expanding into the Oil and Gas business, and will soon be the go-to guy in that field as well.
"It's a very exciting time to be in the Oil and Gas business," claims Ricky Brava.
"The main driver of domestic production is innovation, along with the fact that the US sits on some of the largest oil and gas reserves in the world," says Ricky Brava.
Forecast Highlights According to the U.S. Energy Information Administration
http://www.eia.gov/forecasts/steo/
 
Global Liquid Fuels
U.S. crude oil production averaged 9.4 million barrels per day (b/d) in 2015, and it is forecast to average 8.8 million b/d in 2016 and 8.7 million b/d in 2017.
Forecast production in 2017 is more than 0.1 million b/d higher than in last month's STEO.
EIA expects Brent crude oil prices will average close to $48/ barrel (b) in the fourth quarter of 2016 and in the first quarter of 2017.
Forecast Brent prices average $43/b in 2016 and $51/b in 2017.
West Texas Intermediate (WTI) crude oil prices are forecast to average about $1/b less than Brent prices in 2017.
The values of futures and options contracts indicate significant uncertainty in the price outlook, with NYMEX contract values for February 2017 delivery traded during the five-day period ending November 3 suggesting that a range from $35/b to $66/b encompasses the market expectation of WTI prices in February 2017 at the 95% confidence level.
Higher crude oil prices contributed to U.S. average retail regular gasoline prices in October increasing by 3 cents/gallon (gal) from September to an average of $2.25/gal.
Retail gasoline prices are forecast to average $2.13/gal in 2016 and $2.27/gal in 2017.
Global oil inventory builds are forecast to average 0.8 million b/d in 2016 and 0.5 million b/d in 2017.
Mr. Ricky Brava is the Co-Founder of Mortgage Float. http://www.MortgageFloat.com.
He is an avid Public Speaker that speaks at national and international conferences.
Mr. Brava has received Honorable Citations from The New York State Assembly and New York City Council, as well as being recognized by New York State Senators for his leadership and service to his community.
Follow Mr. Brava on Twitter https://twitter.com/RickyBrava
Ricky Brava regularly holds educational seminars and networking meetings at his NYC office.
Author
Eric Peters
The Wall Street Publication