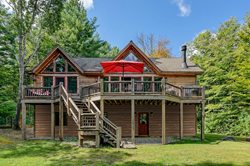 Running an essay contest to transfer a home or business is an idea that is evolving as sellers look for new ways to market real estate.
Bethel, NY (PRWEB) November 10, 2016
When entrepreneurs Andrew Bares and Kelly Lavorgna researched "selling" their Catskills home via an essay contest, they realized that what they would learn from the process could help others do the same. Their contest, which launched last week, is designed to transfer their lakefront Catskills home to a new owner while benefitting several charitable organizations.
"Running an essay contest to transfer a home or business is an idea that is evolving as sellers look for new ways to market real estate. It is a truly exciting alternative to not only 'selling' a home, but also to owning a home that you might otherwise not have been able to have," says Andrew. "We thought that the best way to prove the viability of the concept and then apply our process to other properties would be to do it successfully with our own house first."
To plan for this contest, the couple made a significant investment to consult with experts, set up rules, identify and vet judges and charities, and create an informative website with an extensive video of the property.
"The location and home itself are very attractive aspects that we believe will contribute to the contest's success," adds Andrew Bares. "We also feel that donating a portion of the entry fees to worthwhile charities is a great way to encourage participation and show that this model can be a win for the broader community as well as for buyers and sellers."
The two-bedroom, one-bathroom lakefront home is located on over five acres on Swinging Bridge Reservoir in the town of Bethel, New York, best known for hosting the historical 1969 Woodstock festival. The area, just two hours from New York City, is highly appealing to those seeking a weekend retreat to enjoy year-round outdoor activities, cultural events or just quiet relaxation. The property will come partially furnished and features an open-concept floorplan, oversized floor to ceiling stone wood-burning fireplace, large dining area, stainless steel kitchen appliances, granite countertops, whole house water filtration system, alarm system, three-car garage, sprawling outdoor raised deck, outdoor fire pit and a 50-foot dock.
"We have been fortunate enough to have owned a wonderful home in a spectacular setting, and we now also have the opportunity through this contest to give something back to worthwhile causes," explains Kelly. "Clients who engage us to 'sell' their homes through this contest model will be encouraged to choose charities that have meaning for them."
Andrew and Kelly identified two organizations that their contest will benefit: the National Pediatric Cancer Foundation and Girls Inc. When people enter the contest they choose the charity they would like to receive $5 of their $149 entry fee. Once the contest reaches 5,500 entries, $10 of the entry fees will go to charity.
The contest will run from November 1 through January 31, and can be extended for up to ninety (90) days. Judging will be conducted by 10 independent judges.
To enter, participants visit the contest website at http://www.winlakefrontdreamhome.com to review the rules and submit an essay of no more than 200 words answering the question, "How would owning the Lakefront Dream Home change your life?" They also mail in a check for $149 for the entry fee. The website includes images and video of the home and property, as well as details about the area and a free downloadable guide to the Catskills that the couple created. Complete rules and information about taxes and other fees are also explained on the website.
About Kelly Lavorgna and Andrew Bares
Kelly and Andrew have been in the real estate business for decades, with successful ventures in sales, contracting, architecture, design and hospitality. They have appeared on the HGTV shows Flea Market Flip and Caribbean Life. They love finding special properties and turning them into idyllic retreats for family, friends, vacationers and subsequent owners.
Media Inquiries
info(at)winlakefrontdreamhome(dot)com
Images for download
For all other inquiries, please visit the Lakefront Dream Home Facebook Page