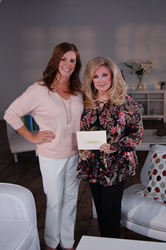 Columbus, OH (PRWEB) November 11, 2016
Thirty-One Gifts Founder, President & CEO Cindy Monroe will appear on Lifetime TV's Baby Boomers in America show Saturday, November 12. Show host Morgan Fairchild discusses careers in the direct selling industry for baby boomer women with Monroe.
The show is entitled "Thirty-One Gifts: Empowering Women" and airs at 9 a.m. in each time zone on the Lifetime and Lifetime HD channels. It also will air again December 3 at 8:30 a.m. Eastern time on the Lifetime Real Women channel.
"Women have talents and gifts that get lost when they get busy raising a family and sending them off to college," said Monroe. "We ask, 'Where am I now, where are my gifts?' We have so much we can accomplish; we can influence our communities, we can impact other women and we can create opportunities for ourselves."
Morgan Fairchild adds, "At this age, women have a desire to work for themselves and run their own businesses, and yet be part of something bigger, be part of a community there to support and encourage them. For women, that can mean true empowerment."
Thirty-One Gifts is one of the world's largest direct-selling organizations, offering purses and wallets, totes, home organization solutions and décor, jewelry and more. They have more than 72,000 independent sales consultants throughout the U.S. and Canada.
Baby boomers are the group born during the post–World War II baby boom, between 1946 and 1964.
The segment features several Thirty-One sales consultants who've discovered second careers in mid-life, including Lynn McCutcheon of Simpsonville, South Carolina, who has been with the company since 2009.
"I truly know that I am blessed beyond measure," said McCutcheon. "My children have said that watching me has helped them want to be their best selves. That's the biggest compliment you can be paid as a parent – to have your children say they want to be like you."
Monroe adds that baby boomers are well-suited for direct selling because they have honed their relationship skills, unlike younger people who haven't had as many experiences. She also believes middle-aged women are leaders and teachers who've learned how to raise a family and work, and are capable of leading a team and doing well in business.
"We have more than 10,000 women who are age 50 and up who are with our company," said Monroe. "They are doing well and having fun mentoring younger women to be leaders and teachers as well."
The Baby Boomers in America segment with Thirty-One Gifts also can be watched at their YouTube Channel: https://www.youtube.com/watch?v=BFjuilJjiiY and will be available to view for one year.