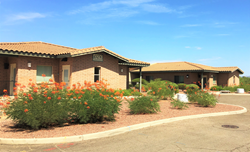 "The company aims to allocate $100 million in potential acquisitions and/or developments into the senior housing arena within the next year," says The Tanbic Company's Founder and CEO, Tanner Bickelhaupt
Tucson, AZ (PRWEB) November 15, 2016
It is no surprise that the Senior Living industry is in the beginning stages of tremendous growth. The National Investment Center for Senior Housing and Care Industry (NIC) estimates that the number of people turning 75 and older will grow at a rate of approximately 2.1% annually during the next five years and that growth will intensify significantly between 2021 and 2039. According to the U.S. Census Bureau, the Baby Boomers will all reach the age of 65 and older by 2029 and account for more than 20% of the total U.S. population.
Investment firms are beginning to take notice of the senior housing space. Among these investment firms eyeing the senior housing space is Scottsdale, Arizona-based The Tanbic Company. "The company aims to allocate $100 million in potential acquisitions and/or developments into the senior housing arena within the next year," says The Tanbic Company's Founder and CEO, Tanner Bickelhaupt.
For the last year, The Tanbic Company has been actively forming partnerships with experts within the senior operations industry, including full-service senior living provider Solterra Senior Living. Scottsdale, Arizona-based Solterra Senior Living offers operation and management services in Arizona and Colorado. The acquisition of Friendship Villas at La Cholla is Tanbic and Solterra's first acquisition together.
According to Mr. Bickelhaupt, "providing housing to seniors fills a need in a socially responsible way, while simultaneously producing attractive returns to our investors. For us, our senior operators must share our goals, most importantly our commitment to providing genuine care." Senior housing is now a lifestyle choice made by informed middle and upper-income consumers with a broad range of options. Tanbic views assisted living and memory care facilities as an often-overlooked segment of the market to provide risk-adjusted returns. Due to the complexity of operations, investors have historically favored independent living facilities, which require fewer services. "We believe the one who cares the most, will win the most. It is not just about providing care and compassion to the resident but also to their families, their friends, and our staff. Our business is about creating a community, and if we are successful at that, everything else works out."
Friendship Villas consists of a total of 103 beds. The campus is made up of five villa homes, four of which support 18 residents each. The fifth villa is dedicated to serving up to 31 memory care residents. The acquisition price was $15.4 Million.
For more information about The Tanbic Company visit http://www.tanbic.com
About The Tanbic Company
The Tanbic Company is a middle market, real estate private equity firm. The company's investment objective is to generate a consistent return comprised of current cash flow income and capital appreciation, with low volatility and little correlation to the general marketplace. The firm seeks to invest between $3 million to $12 million in equity capital per transaction. Tanbic has two primary investment focuses within the commercial investment arena: multi-family market rate/value add and senior housing/independent and assisted living.