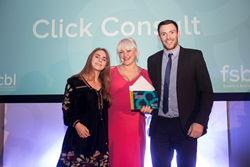 The FSB judges were impressed how Click has identified and developed new opportunities for our clients using digital and social engagement and delivered demonstrable growth through our innovative marketing campaigns.
Cheshire (PRWEB UK) 12 November 2016
Having started its search marketing journey in 2003, Click Consult has become the largest independent search marketing agency within the North West region in 2016.*
The agency focuses on organic search (SEO) and paid search (PPC), and provides a range of supporting services, including content, outreach, social engagement and conversion rate optimisation.
Matt Bullas, founder and CEO of Click Consult, says:
"We've emerged as a clear leader in search marketing and this is reflected in the client wins over the past 12 months including significant brands who have selected Click Consult to execute their search marketing strategy ahead of the competition, including Oxfam, Liverpool ONE, Netflights and Truprint.
"To ensure our level of expertise is maintained, our investment in our ever-expanding team means we've consciously created an environment focused on the professional and personal development of every member of staff.
"We combine high-achieving creative and technical talent with pioneering technology to deliver data-driven, content-rich ROI-focused campaigns that exceed client expectations.
"Our business strategy focuses around 6 key pillars: Thought Leadership; Strategy; Technical; Creativity; People; and Relationships. This leads us to our overall business positioning of experts in search. Simple."
Other award wins this year for click include:

Digital Impact Awards 2016 - Best Use of Digital in the Healthcare and Pharma Sector for LloydsPharmacy Online Doctor
Northern eCommerce Award 2016 - Best Beauty, Health & Well Being eCommerce Site 2016 for LloydsPharmacy Online Doctor
The Drum Search Award's Best Charity/Not for Profit Campaign 2016 for Oxfam
Notes
According to RAR's Top 100 Agency Report 2016 and Econsultancy's Top 100 Digital Agencies 2016.
About Click Consult:
Located in North West England, Click Consult is a multi award-winning search marketing agency with a focus on organic (SEO) and paid search (PPC), with over 70 professionals employed and with a portfolio of over 60 clients from across the UK, Europe, Americas and Australia.
The agency also provides a range of other services, including content, outreach, social engagement and conversion rate optimisation (CRO), as well as international and multilingual search marketing. Click Consult is a Google AdWords and Microsoft adExcellence certified company, has Google Premier Partner status, and is in the Recommended Agency Register (RAR).
As well as winning an FSB Award, Drum Search Award and a Northern eCommerce Award in 2016, Click has been a finalist in the European Search Awards, the DMA Awards, and the UK Digital Experience Awards, amongst others. Click Consult also ranks within both RAR's and Econsultancy's 'Top 100 Digital Agencies' in 2016, and Prolific North's 'Top 50 Digital Agencies' 2016.