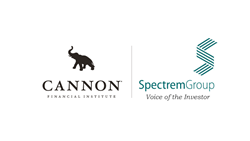 "The voice of the consumer must inform the decisions and actions of the industry."
Athens, GA (PRWEB) November 13, 2016
Phil Buchanan, Board Chairman Cannon Financial Institute and George Walper, Jr., President of Spectrem Group, announced today a new collaborative partnership to enhance the knowledge, skills and insight of financial services professionals domestically and internationally. The collaboration creates a platform to combine the rigorous voice of the financial services consumer of the Spectrem Group into the education and professional development programs of Cannon.
"Our firms have worked in complimentary ways over the past twenty plus years," said Buchanan. "It is abundantly clear that financial services firms and their client facing professional need to better understand and relate to the wants, needs and desires of the clients they serve. Spectrem's comprehensive research provides perspective beyond simple trends by pinpointing the root causes of action. Bringing this perspective into the classroom will enhance advisors' abilities to serve clients.
"The degree of expectations and demands clients have of financial professionals will continue its rapid increase," said Walper. "The voice of the consumer must inform the decisions and actions of the industry. By ensuring it is part of sustained education and development of professionals is a natural fit. The combination of Cannon's industry expertise and Spectrem's research insights will raise the expertise bar even higher.
"Cannon and Spectrem are servants to the financial services industry," offered Buchanan. "Through our collaboration, we hope to create even better experiences for our individual and mutual clients."
About Cannon:
Founded in 1961, Cannon (http://www.cannonfinancial.com) is recognized as one of the leading global consulting and professional development firms serving the financial services industry. Cannon's offerings include industry-forward instruction in personal trust, corporate trust, sales, relationship and practice management, retirement planning, operations, risk management, audit and compliance and investment experience. Cannon's tailored consulting and blended learning solutions help organizations understand and act on change. Cannon shares their clients' belief that everyone deserves sound advice and exceptional service.
About Spectrem Group:
Spectrem Group (http://www.spectrem.com) strategically analyzes its ongoing primary research with investors to assist financial providers and advisors in understanding the Voice of the Investor.