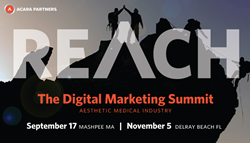 Branford, CT (PRWEB) November 15, 2016
Acara Partners recently held its second REACH Digital Marketing Summit of 2016 before an enthusiastic and energetic group of medical aesthetic leaders at the ENVIRON Training Center in Delray Beach, FL.
ENVIRON, a world-renowned skin care brand recognized for providing innovative cosmetic products to customers across the globe, served as a Platinum Level sponsor for both this REACH Digital Summit in Delray Beach, FL on November 5 and a previous digital summit in Mashpee, MA, in September.
The Delray Beach REACH Digital Summit featured an all-day seminar on the importance of digital marketing and communication as it relates to growing one's practice or business. Sessions were presented by Francis X. Acunzo, CEO of Acara Partners and Reach Beyond Marketing, and John Powers, Senior Communication Consultant for Reach Beyond Marketing. Specific topics included:

"Beyond 2020: The Shape of our Digital World"
"1,000 Likes and Beyond: How Social Media Can Maximize Your Business"
"Website Insight and Branding: How Visitors Convert to Patients"
"Content CEO: Captivate, Engage, and Optimize to Generate Leads"
"Control the Click: The Top SEO Strategies"
"Developing your Digital Marketing Plan."
Plans are underway for the 2017 REACH Digital Marketing Summit series, to be held next year in a number regions across the United States. For more information, please visit reachdigitalsummit.com.
About Acara Partners
Francis and Colleen Acunzo are recognized pioneers in the medical aesthetics industry. Driven by their passion for success, this entrepreneurial husband-and-wife team applied their years of experience when they co-founded Acara Partners in 2003. Their dedication has established their firm as the industry's quintessential, comprehensive business advisory, marketing, advertising and digital agency.
Acara's team of experts integrates knowledge of strategic planning, digital marketing, web development, graphic design and social media management to drive growth, revenue and profits for their clients. With an impressive roster of over 165 current and past clients in major cities in most of the 50 states, as well as internationally, Acara Partners is known for helping to lead the impressive medical aesthetics industry growth spurt, as well their ability to double the revenue of many of the businesses they work with.
To learn more, please visit http://www.acarapartners.com.