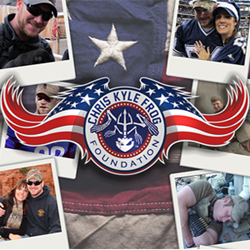 The Woodlands, TX (PRWEB) November 11, 2016
Joining in the celebration of our nation's Veterans this November 11th is the continuance of a foundation that has built its mission on providing experiences to help military and first responders reconnect in marriage after their time serving our country and communities. The Chris Kyle Frog Foundation (CKFF) continues to make a difference in the lives of service members and their families since launching on Veteran's Day in 2014. Founded by Taya Kyle and her dedicated team, the Foundation carries on the memory and work of her husband, Chris Kyle.
Known as the most lethal sniper in American history, Chris Kyle dedicated himself to protecting his fellow troops earning recognition for his unsurpassed valor and courage under fire. Rising to national prominence when he told his story in the bestselling memoir, American Sniper, which was later adapted into the Oscar-nominated film of the same name, Kyle used his new-found fame for good.
It has been another fantastic year for the Foundation and its team as they carry on Chris and Taya's vision of enriching service marriages and families through signature programs such as CKFF Revitalization Retreats. The Foundation ensures that the core support system is there for veterans and first responders after they've served their country; they believe serving your country or community should not mean sacrificing your family.
Through their partnerships, the Foundation has raised awareness and resources for their cause. GMRgold is a proud partner and supporter of the efforts that the great men and women on Taya's team have made to improve the lives of our nation's bravest. Released during the Foundation's one-year anniversary, the Chris Kyle Frog Foundation Commemorative Series of coinage and bars have experienced tremendous interest and success during its first year.
Partners every step of the way, the Foundation and GMRgold collaborated to create iconic legacy pieces that help raise awareness and benefit the Foundation's cause. While some of the designs are no longer available, the CKFF Silver Signature piece and CKFF 2-Coin Copper Set are the featured commemorative items that can still be purchased on GMRgold.com.
"By far, these are some of the most popular items we've had the privilege of offering our clients at GMRgold. It's not just about having the most in demand patriotic silver and copper commemorative series in the marketplace; we are 100% behind the values and mission of the Chris Kyle Frog Foundation," says Marcus Johnson, CCO of GMRgold. "We couldn't be more proud to be partners with such a wonderful organization and are excited to be able to give back to the community that supports them with these great commemorative pieces."
As we remember our country's brave men and women who have served to protect our freedom, let us also join in celebrating the lasting legacy of an American hero: Chris Kyle.
GMRgold, Inc. is one of the nation's leading numismatic firms, a trusted source for precious metal investing, including precious metal IRA accounts and numismatic coin collecting and selling. For more information, or to speak to a precious metals expert on investing or owning numismatic or bullion coins, call 877-795-9585. For more information on these special pieces visit https://www.GMRgold.com.
The Chris Kyle Frog Foundation, http://www.chriskylefrogfoundation.org, is a 501c3 non-profit organization dedicated to serving military and first responders through meaningful interactive experiences that enrich marriages and family relationships. Founded and led by Taya Kyle, Chris's wife, the Foundation is entrusted to shepherd a community where the successes and struggles of these families can be shared. Its programs and partners reflect the service excellence that these individuals and families provide in service to their communities and country.